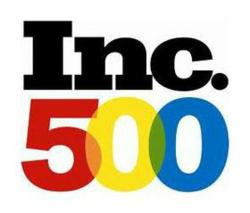 Inc. magazine, September edition, recently named DefySupply as one of the 500 fastest growing, privately held companies for 2012
Minneapolis, MN (PRWEB) August 23, 2012
Inc. magazine, September edition, recently named DefySupply as one of the 500 fastest growing, privately held companies for 2012. This exclusive list identifies and profiles the leading independent entrepreneurs in the U.S. and ranks companies by revenue over a three-year period.
To be eligible for the 2012 Inc. 500 list, companies must have generated $100,000 in revenue in 2008 and at least $2 million in 2011. DefySupply generated $2.4 million in sales in 2011, securing an impressive growth rate of 931 percent in the last three years. DefySupply, founded in 2008, is a newcomer to the annually syndicated list, ranking within the top 500 during its first year of eligibility.
"DefySupply is honored to be ranked on Inc. magazine's top 500 list," says Brent Gensler, CEO of DefySupply. "This award is a marker of our overall company growth, loyal customer base and of course, the hard work of our dedicated staff."
DefySupply sets itself apart from other online furniture retailers by maintaining the lowest industry prices in the industry without sacrificing quality. DefySupply utilizes innovative supply chain processes to connect customers directly to leading global manufacturers, thus eliminating middlemen and excessive markups.
"This award is more than recognition of company growth, but an indicator of consumer need and enthusiasm for modern furniture at an affordable price point. The furniture industry is plagued with inflated costs, but DefySupply fills an industry void, providing budget-friendly prices without compromising on design," adds Gensler.
To commemorate placement on the Inc. 500 list and recognize the driving force behind DefySupply's growth—their customers—DefySupply is offering 5% off all purchases through October with coupon code INC500.
DefySupply, headquartered in Minneapolis, MN, is one of seven Minnesota companies on the list. Additional details, along with the full list, are available in Inc. magazine's September 2012 issue. Visit the Inc. magazine Web site to see DefySupply's profile and ranking.
###
About DefySupply
DefySupply, headquartered in Minneapolis, is a bridge allowing everyday consumers to buy directly from the world's top manufactures at a fraction of the cost. To learn more about DefySupply, visit DefySupply.com or check out DefySupply reviews at DefySupply reviews.