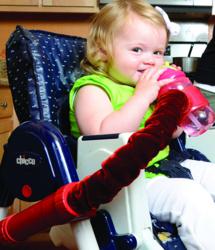 "Having one child was difficult enough, but with two it takes serious effort to not pull my hair out. This Mother's 3rd Arm has literally saved me over and over." Janice P. of San Jose California states.
(PRWEB) August 22, 2012
San Francisco, CA: "We were both surprised and thrilled to be contacted by NBC to send them our revised versus." Reports President David Merritt of Aakilarose, Inc., a California Corporation. "There have been some basic improvements that we have recently made after conducting several Focus Group Studies with 474 mothers around the country and our first official production run for the market is taking place this month, as we speak."
This is a device which has just undergone revision as of July 2012, and is being relaunched with certain new improvements. The Mother's 3rd Arm™ functions as an assistive device for children, by holding baby bottles, Sippy cups and toys securely in place with easy manoeuvrability. One year old baby Charlotte demonstrated how Mother's 3rd Arm™ can be used as a bottle holder, sippy cup holder, snack holder, crayon holder or other items that parents and caretakers need to keep within infants reach.
Mother's 3rd Arm™ was one of six innovative products showcased in the segment where the NBC Hostess announced these are "Baby Products That Really Work." Response to the segment has been outstanding. According to the company CEO Dr. Salma Merritt: "The Today Show was a good introduction to parents who did not know that such a device exists. For over eight years the Mother's 3rd Arm™ has been a life-saver for hundreds of thousands of Special Needs children and adults in the U.S. and other continents. We have now specially designed our new model for children's use so that their parents or caretakers can have less anxiety about whether their child needs to be fed, hydrated or want them to develop higher motor skills. "
About Mother's 3rd Arm
Manufactured and distributed by AakilaRose Inc. of Sunnyvale, CA, Mother's 3rd Arm™ is a patented product that functions as an assistive device for children by holding baby bottles, sippy cups and toys securely in place with easy manoeuvrability. The holder is designed to accommodate various sized bottles, cups and other containers. Mother's 3rd Arm™ attaches to strollers, car seats, highchairs, wheelchairs, tables, beds, and other surfaces. It can be used as a holder for bottles, Sippy cups, cups, toys, crayons, tools, cell phones and anything else that one wishes to hold while driving, at home, restaurants or elsewhere. Complete product details are available at: http://www.mothers3rdarm.com
Video of the Today Show segment can be viewed at:
http://www.mothers3rdarm.com/content/9-demo-videos