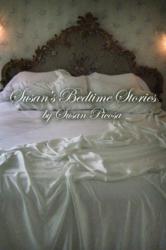 (PRWEB) August 22, 2012
With her new book, Susan's Bedtime Stories, talented show business designer Susan Picosa chronicles how she turned her lusty personal designs into deeply fulfilling reality. Whether with famous musicians or craftsmen who came to enhance her home, she learned that love and sexual fulfillment did not have to be a mere female fantasy.
Married more than two decades, like all too many women Ms. Picosa lived a life of quiet frustration. She was a wife, a mother, and a successful designer, but was able to count her satisfying sexual experiences on the fingers of a single hand.
When her husband would not respond to her desires for a more fulfilling marital life, Susan got divorced and began learning about the dating scene. Circulating in successful artistic circles like never before, she learned that she was not only desirable – she was in demand to more men than she had ever imagined. As time went on and she shared her love advice with friends, she was repeatedly asked to write a book.
"I was terrified about what people might think when I wrote my stories," she says, "but I'm delighted to say now that people who have read my book have responded in an over-the-top wonderful way. I learned that both men and women are fascinated about the impact my authentic romantic moments have had in evolving me into the woman that I've become today."
Susan's Bedtime Stories contains tales that can lead the reader to a new place of exploration and freedom. This eye-opening, self-embracing, explicit, erotic, sexually sensational "It's time to be real" book is intended to inspire any interested adult to search the depths of his or her sensual, playful, sexual, and erotic soul and any fantasy he or she might wish to explore and fulfill.
About Susan Picosa:
A successful East Coast fashionista, Susan Picosa achieved a sexual transformation by becoming willing to explore just about anything, whether in conversation or social interaction. She was continually surprised at herself, considering her personality during the years of her marriage. As her romantic horizons expanded, she learned to relax and experience each new moment with curiosity. With newfound maturity, she embraced the X-rated side of life with confidence, and today leads a life she exuberantly describes as "Sexsational!" This book is her attempt to bring others a much wider degree of personal satisfaction.
(Ebook available for more immediate review. See sample chapter attached.)
(Paper back available September 1st, 2012)