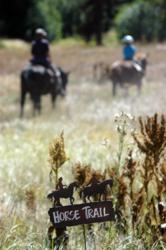 Harvest dinners and outdoor activities attract families to Drakesbad in autumn.
CHESTER, Calif. (PRWEB) August 28, 2012
Drakesbad Guest Ranch in Lassen Volcanic National Park is serving a series of harvest dinners on autumn evenings, each accompanied by a distinctive family outdoor activity.
On Mon., Sept. 3, the "Drakesbad Family Triathlon" will team family members in tests of archery, ping-pong, and volleyball, followed by a harvest dinner featuring stuffed pork chops with gravy, mashed potatoes, candied carrots, and apple pie.
A "Wine & Dessert Ride" occurs on Sept. 11 from 5 to 7 p.m. The guided horseback ride includes sweets and a sampling of wine at a scenic spot along the trail ride.
Thurs., Sept. 20, "Volcano Sundaes" will be served at Drakesbad's hot spring-fed swimming pool while family games and contests occur, followed by a harvest dinner of pumpkin ravioli with a creamy alfredo sauce, sautéed butternut squash, and triple layer mousse cake in the dining room.
Following an afternoon guided horseback "Wine & Cheese Ride" on Tues., Sept. 25, the Drakesbad dining room will serve homemade chicken fricassee and biscuits with seasonal vegetables and double chocolate cake.
A guided "Harvest Moon Hike" follows Drakesbad's harvest dinner of oven-roasted turkey with oven roasted Yukon gold potatoes, green beans, pepper, onion & bacon and pumpkin pie, on Sat., Sept. 29.
Closing Drakesbad's series of harvest dinners, its chefs will present a menu of grilled duck breast with plum sauce, green beans, au gratin potatoes and crème brûlée on Sat., Oct. 6, accompanied by live music.
The harvest dinners and activities (except horseback rides) are included with the cost of accommodations and are available to overnight guests only. Horseback rides are $25 extra.
Drakesbad Guest Ranch is located in the Warner Valley of Lassen Volcanic National Park, 16 miles north of Chester. Reservations can be obtained online by visiting http://www.drakesbad.com. Drakesbad Guest Ranch is an authorized concessioner of the National Park Service.