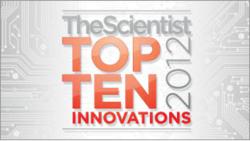 "Innovative scientific discoveries have marched hand-in-hand with the development of cutting-edge technology. Reporting on technical innovation is an important part of our commitment to covering all that's best in the life sciences"
New York, NY (PRWEB) August 20, 2012
Now in its 5th year, The Scientist continues to champion innovation and advancement in the life science field with its Annual Top 10 Innovations Competition. Submissions are still being accepted for any product, released on or after October 1st, that a researcher can use in a lab. A panel of expert judges has been assembled to evaluate the cutting-edge, life-sciences technology. All results will be showcased in the December 2012 issue of The Scientist.
Scientific discovery is a key component of the life science community and the Top 10 Innovations Competition has become a showcase for life science tools. A very tough global economy makes it more important for innovators to increase visibility and a fast paced social media marketplace, with its vast volume of information, makes a competition like this incredibly helpful.
For the past four consecutive years, the feature article covering the winners of this Top 10 Innovations Competition is one of the most widely anticipated and read, "Innovative scientific discoveries have marched hand-in-hand with the development of cutting-edge technology. Reporting on technical innovation is an important part of our commitment to covering all that's best in the life sciences", says Editor-in-chief Mary Beth Aberlin. Last year's list featured such innovations as the "Pocket Microscope" by Lucas and "Single-Cell Mass Cytometry" by CyTOF.
This competition is so important because according to a survey conducted by Martin Akel & Associates, the majority of The Scientist's audience is heavily involved in the selection of life science vendors and products. In fact, 85% play a leadership role in seeking out new or novel solutions to achieve research objectives and 84% are willing to champion new approaches or technologies. Being in the Top 10 will give innovators exposure to the audience that will support and be responsible for the purchase of these products.
Clicking here will provide rules of eligibility and information on how to submit an innovation. The entry deadline is quickly approaching. Submissions will be accepted until September 19, 2012.
About The Scientist:
The Scientist has informed and entertained life science professionals around the world for more than 25 years. The title provides print and online coverage of the latest innovations in life science research and industry developments including trends in research, new technology, news, business and careers. We reach leading researchers in academia and industry who are interested in maintaining a broad view of the life sciences by reading insightful articles that are current, concise, accurate, and entertaining. For more information about The Scientist, visit http://www.the-scientist.com.
Follow Us:
Facebook: http://www.facebook.com/thescientistmagazine
Twitter: http://www.twitter.com/thescientistllc
LinkedIn http://www.linkedin.com/groups/Scientist-Magazine-2142072
###