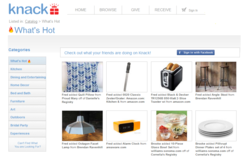 "Your new life together will be blessed with awesome, unique and handpicked items and experiences through Knack Registry." 7x7
San Francisco, CA (PRWEB) August 23, 2012
Knackregistry the one-stop-shop for wedding registries has released a new discovery engine called the What's Hot Product Feed. The feed shows us what products and stores brides like, and allow the registrant to add social context by allowing them to sort the feed to see friends activity in their social network. By organizing the experience around people Knack is crowd sourcing a catalog, which is curated by the brides who choose to build their registry on Knack.
Social networking is the most efficient many-to-many means of communication. When a bride is registering she is naturally curious and wants to know who added the item, what they added and from where. Knack provides this social context around products as a jumping off point so they can efficiently select interesting items for their registry. If a bride is interested in another brides selections or a store she can now simply click on the brides name or the store associated with the product to see other related products. Instead of creating and managing multiple registries brides can now go to one site to manage everything with a universal registry.
The rise of pinterest has powered a shift from search to discovery, and Knack is an example of a new breed of social shopping that provide the user with a platform to define their taste and style. To help brides build a better registry they are putting them at the center of the experience. Instead of being marketed to by brands Knack enables brides to collaborate with each other with a shared goal of identifying the best gifts. In a more open and connected world modern brides are using new technology to plan their weddings, and starting new traditions.
Knack's founders Jonathan Shriver-Blake and Fred McFerran are passionate about connecting people, enabling collaboration and giving brides a platform where they can build something special they want to share. Both men admit to having no fashion sense. Fred McFerran said "We built Knack to give brides a louder voice about redefining a process we felt was over-commercialized and impersonal. Neither John or I are taste makers, which both our wives can attest to so the only option was really empower our users"
About Knack
Knack is a wedding registry service that gives you the flexibility to register for the gifts that are most meaningful to you, not just what's in stock at a few big retailers.