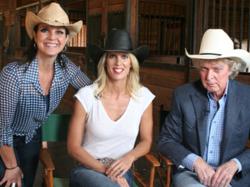 Ribera, NM (PRWEB) August 20, 2012
GAC's Top 20 Country Countdown heads to The Imus Ranch in Ribera, New Mexico – and host Nan Kelley gets put to work! Owned by radio star Don Imus and his wife Deirdre, the 4,000-acre working cattle ranch provides the experience of the great American cowboy to children facing cancer or serious blood disorders.
Don and Deirdre get Nan up at dawn to help the young ranch hands with their chores, which includes the feeding and saddling of horses. Once she gets a break in her busy day, she'll interview eight-time world champion cowboy Joe Beaver as well as the Imus' 14-year-old son, Wyatt Imus. Check the GAC show schedule here.
The Imus Ranch is a working cattle ranch for kids with cancer. It is located in
beautiful Ribera, New Mexico and has hosted more than 1,000 kids since 1998.