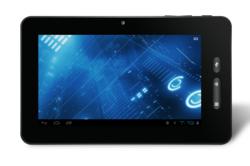 Idolian, together with Select Electronics, is helping change the food service industry to create more efficiencies for businesses, do away with manual order processing and allow for better capabilities to audit and mange their employees and resources
Newport Beach, CA (PRWEB) August 21, 2012
Idolian Mobile, a leading manufacturer and distributor of tablet PCs and tablet accessories, today announced that its tablet PCs have been selected by software developer, Select Electronics Corporation, as the devices to exclusively carry the new ChefTab kitchen display system when the product is launched in the fall of 2012.
ChefTab is a mobile kitchen display app that allows kitchen and restaurant employees to communicate customer orders, service requests and table or station information from the point of service to the kitchen and other stations with a restaurant or vice versa. ChefTab completely eliminates paper-based transactions like taking orders and manually filing them with the kitchen staff.
ChefTab automates of the entire order and service process for restaurants of all sizes, allowing business leaders the ability to track and audit their internal procedures and identify efficiencies and areas where improvements can be made. In addition, the systems allows for the tracking and analyzing of restaurant traffic, as well as provides insight into business data like the best and worst selling food and drink items, peak service hours and best performing specials and combos.
Idolian Mobile is the exclusive tablet PC partner to carry the Select Electronics' ChefTab app. With the Idolian-manufactured tablets, ChefTab is able to meet the demanding and changing requirements of the kitchen and restaurant environment while providing an elegant user interface that also offers a sleek ordering experience for customers.
The Idolian tablets that Select Electronic has chosen are nearly wireless with only one port, which is used to charge the device's battery. A touch-screen keyboard is built in, eliminating the need for a connected keyboard; there also is no video graphics array connector; and the built-in Wi-Fi replaces the need for an Ethernet port.
Doing away with the unnecessary ports literally means the tablets are easier to keep clean in environments where food and drink is prevalent, said Jay Kim, president and founder of Idolian Mobile.
Additionally, the Idolian tablets allow ChefTab to be operated in a mobile environment without the need for multiple hardware pieces like controllers, keypads or monitors. The tablets feature one-touch screen, which eliminates all of the other pieces.
"Idolian, together with Select Electronics, is helping change the food service industry to create more efficiencies for businesses, do away with manual order processing and allow for better capabilities to audit and mange their employees and resources," said Kim. "With our devices and with the ChefTab app, restaurants using the system should truly be able to identity strengths and begin to use the insights gathered to better their business, set themselves apart from the competition and better serve their clients."
The ChefTab tablet by Idolian is the IdolPad 10, which features a 10.1-inch screen with Android 2.3 operating system, 1.2GHZ processor, 512 MB RAM and a 4 GB standard flash drive.
Idolian offers a full line of wholesale tablet PCs directly to consumers and business. Its devices are used in schools, by government agencies, businesses and by casual users. Idolian offers discounts to schools and businesses. Accessories, including cases, charger cables and screen protectors, are also offered though Idolian's website, Idolian.com, and free shipping is available on all orders of $100 or more.
Like all of Idolian's Android Tablet PC s, the devices used by Select Electronics come standard with a one-year limited warranty serviced in the U.S. Idolian also offers extended warranties and protection plans for sale only on idolian.com.
For more information about Idolian, visit http://www.idolian.com or email support@idolian.com.
For more about ChefTab, visit: http://www.selectelectronics.com/cheftab.
About Idolian Mobile
Founded in 2010 and headquartered in Newport Beach, California, Idolian Mobile is a supplier of tablets and tablet accessories. Idolian.com is a division of Idolian Mobile Inc., a global wholesaler and retailer of tablet personal computers. Idolian provides discounted tablet PCs to customers worldwide.
About Select Electronics Corporations
Select Electronics Corporation is the premier supplier of advanced and affordable kitchen display systems to the hospitality industry. Fortune 500 hospitality establishments have relied on its products for more than 20 years; today Select Electronics interfaces with nearly every point-of-sale register in the industry. Select Electronics continues to innovate by offering affordable solutions including the latest all-in-one IPad-SX, ChefXML Hospitality Automation Software and ChefTab. Visit http://www.selectelectronics.com.