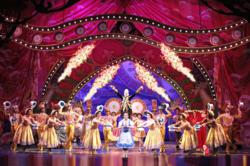 The original creators of the Broadway production are together again for the new tour.
Worcester, MA (PRWEB) August 22, 2012
The Hanover Theatre for the Performing Arts is proud to announce the return of the award-winning Broadway production of DISNEY'S BEAUTY AND THE BEAST, generously sponsored by Reliant Medical Group, on Sunday January 6 at 1pm and 6:30pm. Tickets are on sale to members of The Hanover Theatre before going on sale to the general public on Friday, September 14 at 10am.
The original creators of the Broadway production are together again for the new tour. The play is directed by Rob Roth and choreographed by Matt West, with Costume Design by Ann Hould-Ward (Tony Award® winner for her work on DISNEY'S BEAUTY AND THE BEAST), Lighting Design by Natasha Katz, Scenic Design by Stanley A. Meyer, Sound Design by John Petrafesa Jr. and Music Supervision by Michael Kosarin.
DISNEY'S BEAUTY AND THE BEAST is the classic story of Belle, a young woman in a provincial town, and the Beast, who is really a young prince trapped in a spell placed by an enchantress. If the Beast can learn to love and be loved, the curse will end and he will be transformed to his former self. But time is running out. If the Beast does not learn his lesson soon, he and his household will be doomed for all eternity.
For information on the production, visit BeautyAndTheBeastOnTour.com.
Ticket prices are $39, $49, $59 and $69 with a 10% discount available for members of The Hanover Theatre, groups of 10 or more, kids, students and WOO Card holders. Tickets are available online at TheHanoverTheatre.org, by phone at 877.571.SHOW (7469) or at The Hanover Theatre Box Office located at 2 Southbridge Street in downtown Worcester.
Subscribe to the 2012-13 six-show Broadway Series Subscription Package by August 27, including MARY POPPINS, WEST SIDE STORY, EXPERIENCE THE BEATLES WITH RAIN, LES MISÉRABLES and THE ADDAMS FAMILY, and save an additional 15% on CHICAGO, DISNEY'S BEAUTY AND THE BEAST, SANDY HACKETT'S RAT PACK, LORD OF THE DANCE and STOMP. Subscribers can also take advantage of a Basic Membership to The Hanover Theatre, a complimentary parking pass, and a variety of benefits from cultural partners, restaurants and other businesses throughout Worcester County.
About The Hanover Theatre
The Hanover Theatre for the Performing Arts, located in downtown Worcester, New England's second largest city, is recognized by Pollstar as one of the Top 50 Theatres in the World. After undergoing many name changes and renovations over the decades since its 1926 birth, The Hanover Theatre reopened in March 2008 following a $32 million historic restoration. Since then, the theatre has established its place as a rich entertainment and cultural venue, winning numerous awards, including The National Trust for Historic Preservation Award in 2010. Now in its fifth season, The Hanover Theatre continues to expose over 170,000 annual patrons to world-class entertainment in the form of Broadway, concerts, comedians and much more. For more information, visit TheHanoverTheatre.org. Worcester Center for the Performing Arts, a registered not-for-profit 501(c)(3) organization, owns and operates The Hanover Theatre for the Performing Arts. All donations are tax deductible to the fullest extent allowed by law.
About Reliant Medical Group
Reliant Medical Group is multispecialty group practice with more than 250 doctors and 1,700 employees at over 20 locations throughout Central Massachusetts. Reliant Medical Group offers a unique collaborative care approach that helps patients through sickness and health with compassion and a shared dedication to patient service. Reliant Medical Group accepts all major forms of health insurance. For more information on Reliant Medical Group, please visit us at: http://www.reliantmedicalgroup.org.