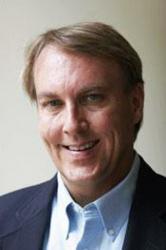 New York, NY (PRWEB) August 21, 2012
Respected investment manager David Tice is turning his sights to the film industry again. Tice, a regular on financial television, is known for his bearish outlook on the U.S. economy and his sharp criticism of government economic policies. The Bubble, which is inspired by Dr. Tom Woods' New York Times Bestseller "Meltdown", will be Tice's third film following Soul Surfer (2011) and the forthcoming "Red Machine" featuring James Marsden and Billy Bob Thorton.
"This is a story that needs to be told so it doesn't happen again," said Tice. "Our policy makers followed flawed economic theories that put our economy in harm's way. Tom Woods and other followers of the Austrian school of economics understand what happened. They explain clearly how we got into this predicament and how we are not yet out of trouble as we continue to follow flawed economic theory. I believe in this story and that is why I chose to Executive Produce and help finance this film."
Tom Woods, the New York Times best selling author and writer of "The Bubble" also expressed excitement over Tice's involvement. "To have someone with the knowledge and experience of David Tice as an enthusiastic supporter and a key player in our project is a huge asset for us", said Woods.
The Bubble features interviews with the experts that predicted the financial crisis and asks what is coming next. The cast includes politicians, business leaders and investors such as Jim Rogers, Peter Schiff, Ron Paul, Marc Faber, Doug Casey, Jim Grant and many others.
The feature length film will have a world premiere this fall in New York City, followed by a nationwide release soon after. Interviews may be arranged with the production team by calling (517) 420-3186. More information about the film, including the trailer, can be found at http://www.TheBubbleFilm.com.
###