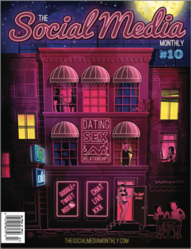 Frankly, we were very surprised that the two airlines we currently distribute the magazine through found our latest cover too risqué.
Washington, DC (PRWEB) August 21, 2012
Washington, DC-based technology group, Social Media Insider LLC's magazine, The Social Media Monthly's current on-sale issue, July/August 2012, covering the intersection of social media with sex, dating and relationships proves to be too controversial for the airline industry.
"Frankly, we were very surprised that the two airlines we currently distribute the magazine through found our latest cover too risqué," said Robert Fine, founder of Social Media Insider. "We even approached a couple of other carriers that we've already been pre-approved for distribution, and they also found it unsuitable to distribute. Personally, I think the cover is pretty tame compared to most of what you would find on the newsstand today. I would have thought that the airline's prime customer, single businessmen and women, would have been interested in better understanding the social media dating scene."
"Since the airlines don't seem too interested in us, we decided to get involved in the next best thing, sponsoring the first ever crowd funded satellite that will allow individuals to take their own images of the planet and to tweet messages from space. We're extremely proud and excited to help support Tim and his unique project that brings everyday people together in a first of its kind commercialized group project in space."
SkyCube is a Kickstarter project organized by Tim DeBenedictis that will provide an unprecedented opportunity for millions of sponsors worldwide to participate in a shared space exploration experience using their mobile phones. The satellite is a 10x10x10 cm "1U" CubeSat that will be launched on a SpaceX Falcon 9 rocket in 2013. It will broadcast sponsors' messages from orbit, and let them image the Earth, from an altitude of 350 miles – far higher than any airline has ever flown. At the end of its 90-day mission, SkyCube will inflate an onboard balloon to make itself visible, and de-orbit the satellite cleanly: a first for the nano-satellite industry.
SkyCube will be the first satellite "owned" by everyone. Like Sputnik did 50 years ago, SkyCube will boost interest in astronomy, space exploration, and science education for an entire new generation of explorers around the world. DeBenedictis writes: "Through social media and mobile apps, SkyCube will transform space exploration from something abstract, that you might read about on a NASA web site, into something you can hold in your hands."
Note: Please contact for hi-res images.
About Social Media Insider LLC
Robert Fine is the founder of Social Media Insider, LLC, and author of "The Big Book of Social Media Case Studies, Stories, Perspectives". Robert has over 17 years experience as a systems and sales engineer with various companies including CMGI, Hughes Network Systems, and most recently as Senior Director of IT for Global Strategy & Development at Conservation International (CI). He is currently pursuing his PhD at George Mason University where he is researching links between investments in information technology and achieving conservation outcomes.
About Tim DeBenedictis
Tim DeBenedictis (Founder/Owner) has been writing astronomy software since his high school days. After graduating from MIT in 1993 with a degree in Earth, Atmospheric, and Planetary science, Tim found himself in Silicon Valley when the Internet boom began. He held engineering positions at several financial services and technology companies throughout the dot-com boom, and returned to his "astronomical roots" after the bust. Tim was also one of the two principal designers behind the award-winning SkySafari iPhone app and SkyFi wireless controller.