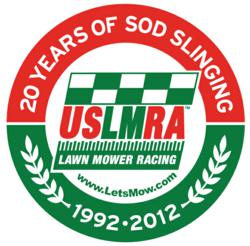 "Live to mow, mow to live." - Bruce Kaufman, "Mr. Mow It All," U.S. Lawn Mower Racing Association President.
Delaware, OH (PRWEB) August 27, 2012
One of America's most beloved grassroots motorsports will mark it's 20th Anniversary event this Labor Day Weekend as the STA-BIL Keeps Gas Fresh Finals National Lawn Mower Racing Championships celebrates its 20th Anniversary with a two-day mow down show down in Delaware, Ohio.
The United States Lawn Mower Racing Association (USLMRA) will host its annual End of Summer Mow Down, Saturday-Sunday, Sept. 1-2 at the Delaware County Fairgrounds, 236 Pennsylvania Ave., Delaware, OH. Race time is 7:00 PM Saturday, Sept. 1 and 9:00 AM Sunday, Sept. 2. Admission is $5.00, free for kids 12 and under.
Sod stompers, lawn rangers and grass kickers from across the U.S. and Ontario, Canada will compete in bladeless competition at speeds up to 50mph to determine North America's ultimate turf warriors. National Champions will be crowned in 11 classes, with winners receiving trophies, bragging rights and garden gnomes.
Two of the world's fastest lawn mowers will be on display including the Dixie Chopper Jet Mower, fitted with a 150 horsepower Chinook military jet engine made famous in the 1993 episode of Home Improvement and the Bonneville Salt Flats mower built by Gold Eagle's Engine Answerman Bobby Cleveland that set the World Land Speed Record of 96.529 in 2010.
Festivities will also include the annual Induction Ceremony for the USLMRA National Lawn Mower Racing Hall of Fame & Museum of America, when Gold Eagle Co. makers of STA-BIL®, America's top selling fuel stabilizer, and USLMRA Founder & President Bruce Kaufman, "Mr. Mow It All" will join legends of the lawn including "Turfinator" "Sodzilla" and "Sir Lawns-A-Lot." The Lawn Mower Racing Hall of Fame and Museum is located at Miller Lawn & Power in Marion, Ohio.
Fraternities and sororities from Ohio Wesleyan University, including Phi Gamma Delta will join with CD102.5 FM, Columbus, to benefit the Huntington's Disease Society of America (HDSA). Huntington's disease (HD) is a hereditary, degenerative brain disorder that effects more than a quarter of a million Americans, including a prominent lawn mower racing family.
Founded on April Fool's Day 1992 in conjunction with Gold Eagle Co., STA-BIL®'s 20 consecutive years of support is one of America's longest-running motorsports sponsorships. The STA-BIL Keeps Gas Fresh Finals is the culminating event of the 18-race STA-BIL Lawn & Garden Mower Racing Series. Races will be televised on Fox Sports Net in the fall.
"I am so proud of how lawn mower racing has grown over the past 20 years," said Kaufman. "We've kept lawn mower racing competitive and family-oriented. We've kept the purse money out and the fun in. We've kept our sport affordable and also allowed it to grow. We raise money for good causes and we support communities. We bring people together and foster good sportsmanship. After 20 years, my mowtivation remains solid!"
The U.S. Open will be run Sunday, Sept. 2, 9:00am and will bring together racing mowers from various sanctioning bodies, clubs and independent groups from across America and Canada for mower-take-all showdowns.
Event sponsors include FaceLube®, the high performance anti-aging skin care technology for masculine men, Auggiedog, a new poop pick up power tool for picking up dog waste and WheeliesTM Tractor Wheel Covers and K&N Filters who has been a Series sponsor for seven years.
About the U.S. Lawn Mower Racing Association
Founded on April 1, 1992, The U.S. Lawn Mower Racing Association sanctions and presents organized lawn mower racing across America including the 20-race STA-BIL Lawn and Garden Mower Racing Series, a U.S. Open National Series, Local Traveling Chapters and Home Track Affiliated Clubs, hosting 140 events each year. The USLMRA is the nation's oldest and largest National Lawn Mower Racing Sanctioning Body with more than 800 racers nationwide. Lawn mowers race in several road course classes with all cutting blades removed at speeds from 10-60 mph. Racers compete for trophies, points and bragging rights, never for purse money. The annual STA-BIL Keeps Gas Fresh Finals national championship is televised on Fox Sports Net "Race Freaks" USLMRA sponsors include STA-BIL Fuel Stabilizer, HEET GasLine Antifreeze, Diesel Power!,104+ Octane Boost, No Leak, Alumaseal, Start Your Engines!, K&N Filters and Gnomefrenzy.com. For mow info please visit http://www.letsmow.com.
About Gold Eagle Co., Makers of USLMRA Title Sponsor STA-BIL Fuel Stabilizer
For 80 years, Gold Eagle® Co. has been an industry pioneer in the production and distribution of aftermarket fluids and additives, creating products that help preserve, protect and enhance the performance of engines everywhere. Gold Eagle® Co is a leader in the product development, manufacturing, marketing, and distribution of branded engine performance and maintenance chemicals. Privately held and headquartered in Chicago, Gold Eagle Co. is the manufacturer of leading brands, including STA-BIL® Fuel Stabilizer, HEET® Gas-Line Antifreeze, NO-LEAK® Treatments, 104+® Octane Boost, Start Your Engines® and DieselPower!® Diesel Additives. To view a complete line of Gold Eagle products or learn more about the Company, please visit http://www.goldeagle.com.