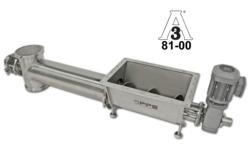 Chanhassen, MN (PRWEB) August 21, 2012
Powder Process-Solutions (PPS), worldwide supplier of bulk powder processing systems and components, announces the debut of the PPS VSF & VSFO Model Volumetric Screw Feeders that meet the requirements of 3-A sanitary standard 81-00. The sanitary, efficient, and quick-demountable screw feeder design allows for multiple applications across numerous industries.
The need for a medium to high capacity screw feeder that could meet the requirements of 3-A sanitary standards was presented recently and the company answered. As the president of Powder Process-Solutions Mike Salvador put it, "There are very few options available for larger screw feeders that meet sanitary requirements for dairy and food applications. We knew that with the company's expertise in sanitary design and construction we could design a product that would set the standard for the future of sanitary screw feeders" A team with the highest level of sanitary design knowledge was utilized for this process which, included employees who are current members of 3-A work groups. Salvador said the team, "Set out to design and build a high quality, easy to use feeder that will meet the needs of our customers." In early August of 2012 the company was given license to display the 3-A symbol on the full line of VSF & VSFO screw feeders.
Featuring a broad range of sizes and options PPS VSF & VSFO Volumetric Screw Feeders are available with auger diameters ranging from 4" to 10" and lengths to fit almost any application. A variety of outlet options are available including ferrules, flanges, BFM® flexible sleeve fittings, and plain tube stubs. The VSFO line incorporates over-flighting in the auger to improve feeding of non-free flowing powders. The entire line of VSF & VSFO feeders are constructed of stainless steel with all product contact surfaces polished to a maximum 32Ra finish. The fully demountable design allows for the complete feeder to be broken down for cleaning. The auger can be removed from the housing with simple clamps and hand knobs. Demountable air purged shaft seals prevent powder leakage and allow for quick removal for cleaning and replacement.
PPS has been in the sanitary bulk powder handling industry for over 30 years (formerly known as Nu-Con Equipment). The name change allows PPS to globally supply customized designs, utilizing the same employees with the same values and goals of improving our customers' processes.
About Powder Process-Solutions
Powder Process-Solutions, a division of Powder-Solutions Group is headquartered in Chanhassen, MN. Powder Process-Solutions engineers, manufactures, and installs bulk powder processing turnkey systems and components. Powder-Solutions Group is a leading bulk powder processing solution provider and parent company to Powder Process-Solutions and Powder-Solutions, Inc. Powder-Solutions, Inc. supplies the BFM® fitting, clampless hose connector, and the PSI-Pleat, efficient pleated filter element. Both companies serve the food, dairy, nutritional, pharmaceutical, and chemical industries.