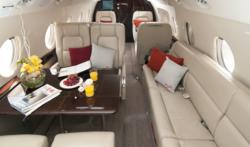 Hong Kong (PRWEB) August 21, 2012
Sino Jet Management Limited, a Hong Kong-based premium private jet services provider, announces that a beautiful Gulfstream G200 business jet is now available for charter. Based in Hong Kong, this 10-passenger, super mid-size jet is operated and maintained according to FAA requirements by TWC Aviation under the marketing alliance established this year. TWC Aviation is a preeminent U.S. business aviation company with worldwide operational expertise.
The Gulfstream G200 is one of the most popular super mid-size jets and is equipped with state-of-the-art avionics. It offers a range of 3,400 nautical miles—and a maximum speed of 850 km/h. This luxurious aircraft is perfect for fast, direct flights from Hong Kong to China, Japan, or Singapore.
Featuring a silver livery, beige leather seating, and gleaming dark wood furniture, this G200 offers the ultimate in contemporary elegance. The spacious cabin, the largest in its category, accommodates 10 passengers and is designed for maximum comfort. There are two living areas appointed with leather panelling, club seats, and couches. The conference area can be converted into a comfortable double bed. The large windows fill the cabin with natural light, creating an ideal ambience for business productivity and peaceful relaxation.
The aircraft is designed with many additional amenities, including a galley with refrigerator and microwave, so passengers can enjoy gourmet meals and vintage wines as they soar to their destinations. The advanced entertainment and communications systems offers DVD players and TV monitors, and a satellite phone. There is also a spacious full lavatory and vanity with walk through access to a 150-cubic-feet baggage compartment. Passengers can easily store large luggage, golf clubs, and other oversized items.
"The Gulfstream G200 is one of the most luxurious and advanced super mid-size private jets in the world and an ideal solution for short and medium flights to and within China and other areas throughout Asia," said Ms. Jenny Lau, President and Chief Executive Officer of Sino Jet. "Along with the Global Express already available for charter, this G200 enhances Sino Jet's ability to meet different travel needs."
About Sino Jet Management Limited
Sino Jet Management Limited is a Hong Kong-based comprehensive business aviation operator, providing fine personalized services with global operations and a touch of Asian hospitality. Sino Jet serves the most prestigious institutional and private clients with aircraft acquisition, refurbishing and modification, management, VIP charter, consultation, maintenance and trip concierge arrangement. The company is truly a one-stop business aviation service provider with around-the-clock operational support worldwide. By leveraging its strong global network, experiences and management capability, Sino Jet is able to manage aircraft and provide professional services to clients worldwide. To fully support its management services in China, Sino Jet has established an operations centre and client representative office in Beijing. Additional information is online at http://www.sinojet.org.
About TWC Aviation, Inc.
TWC Aviation provides aircraft management, sales & acquisition, charter, and jet card services to clients worldwide. TWC Aviation manages a diverse fleet of business aircraft throughout the U.S. and Asia, with operations centers in San Jose, Los Angeles, and New York. The company's fleet includes jets from Bombardier, Dassault, Cessna, Embraer, Gulfstream, Boeing Business Jets, and Hawker Beechcraft. TWC Aviation is audited by independent safety organizations: IS-BAO, ACSF, Wyvern, and ARGUS. Aircraft operate under FAA Air Carrier Certificate BZUA138N. TWC also maintains an FAR Part 145 Repair Station certification. Further information about TWC Aviation is available online by visiting http://www.twcaviation.com.