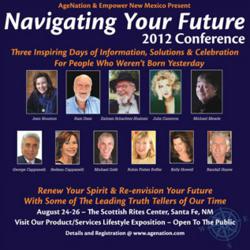 Santa Fe, NM (PRWEB) August 20, 2012
Featuring some of the county's leading truth tellers and experts on topics that include health and wellness, finance, careers, personal and spiritual development, life transitions, civic engagement, mentorship and more, ' Navigating Your Future 2012' also features more than 15 musical performers and groups - part inspiration, part information and a lot of celebration. This event is featured on the SantaFe.com event calendar
Featured Speakers and Benefits of the 'Navigating Your Future' 2012 Conference:
Regain passion for Life and Develop New Levels of Conscious Living -
Discover more potential and identify specific steps that can be taken to access the wisdom that lies within each person. Jean Houston, one of the principal founders of the Human Potential Movement, will instruct how this can be achieved.
Reinvent One's Self | Become an Entrepreneur | Start a New Career -
Robin Fisher Roffer will help attendees create a new vision in this season of life and share ways to make it a reality.
Listening to the Call of Destiny and Understand the Role Fate Plays in Life -
Join mythologist and story teller, Michael Meade as he weaves his magic with drumming and lessons from history and mythology that will engage and inform
Practical Advice about the Real Estate Market, How to Protect Assets and Rebuild Financial Net Worth -
Francis Phillips, financial consultant and real estate expert will be sharing his inspiring and practical advice at Navigating Your Future 2012.
Using the Full Brain Potential and Moving Past Limiting Beliefs About Aging -
Best Selling Author, Michael Gelb, and the world's leading translator of brain research into new learning strategies, Kelly Howell share their strategies on the amazing power of the human brain.
Advice on the Care of Elderly Loved-one's -
Camille Adair, palliative care expert, former hospice nurse and documentary film maker whose production of 'Solace' is a groundbreaking work will share her expertise and recommendations on how to honor elders and celebrate life with them.
Get in Touch with Creativity and Awaken Passion for Life -
Julia Cameron, author of The Artist's Way and 28 other groundbreaking books, who has taught millions to connect with their inner muse, is a featured speaker offering practical knowledge and skill sets regarding creativity and developing passion for life at 'Navigating Your Future 2012'.
Knowledge, Insights and Perspectives about Today's Changing Environment and How It will Affect Everyone's Future -
Get the insights and perspectives of one of America's leading environmentalists, Brent Blackwelder, former President, Friends of the Earth, a founder of the Environmental Policy Center and the Environmental Policy Institute.
Harvesting the Wisdom and Experience of One's Past to Invest in the Present and the Future -
Zalman Schachter-Shalomi, author of the groundbreaking Age-ing To Sage-ing and the father of the Spiritual Eldering Movement in America, provides insights about putting the knowledge and experiences of one's past to use by investing it in today and tomorrow.
The Difference that Supplements and Natural Ingredients Make in Living a Vital and Healthy Life -
Join Hyla Cass,MD, author of 8 Weeks To Vibrant Health as she shares her years of valuable insights from her work with thousands of patients.
Learn How to Make Each Present Moment More Meaningful, Satisfying and Joy-filled -
Ram Dass will be talking about how learning to live in the present moment and a commitment to greater consciousness can lead to that life. Attendees are encourage to join him for a unique and special talk recorded recently from his home Maui exclusively for this conference.
Learn about the Power of Dreams -
Kelly Sullivan Walden, author and dream expert will help attendees explore dreams; understand their symbols and the wisdom and guidance they contain.
Find Inspiration by Exploring the Past Wisdom of Other Cultures and Apply the Knowledge to Chart a Course for the Future -
Angeles Arrien, anthropologist and self-described mischief maker helps explore the past and the wisdom of other cultures with attendees while providing a better understanding how to apply this knowledge to planning one's own future.
Learning to Live the Life You Were Born to Live -
Learn how to share unfinished dreams and leave behind a legacy to be proud of. Join George and Sedena Cappanelli, Co-Founders of AgeNation, when they talk about their new book, Do Not Go Quietly
Learn How to Move the Body in Ways that Optimize Health and Limit Injury -
Frank and Lenny Hatch, co-founders of Kinnesthetics, will show attendees to 'Navigating Your Future 2012' how.
Additional 'Navigating Your Future 2012' Features and Benefits:

15 inspiring musical groups and performers that will lift the spirit and touch the heart
Spiritual and religious leaders of different traditions help envision a more positive future
A chance to meet the authors and get signed copies of their books
Tons of special drawings and give-a-ways
A chance to spend time in the LifeStyle Expo and learn about wonderful products and services
The opportunity to attend the special entertainment and award evening on Saturday
A chance to browse in the on-site bookstore presented by Collected Works
Navigating Your Future 2012, offers attendees a chance to meet old friends, make new ones, laugh, share, sing, learn, explore, celebrate and chart a more positive course for the future.
To take advantage of special early bird tickets and discounts call the Lensic Box Office 505.988.1234
Preferred Seating Sections, an on-site book store, box lunches and conference participants can purchase special Navigating Your Future Conference DVD's with all of the keynote talks.
Conference details – http://www.navigatingyourfutureconferences.com and http://www.agenation.com
505.982.5753/5743 or info(at)agenation(dot)com for interviews
About SantaFe.com
SantaFe.com provides locals and visitors to Santa Fe alike the most current interactive platform for events, music, arts, business, dining and lifestyle. SantaFe.com is a division of Hutton Broadcasting, located at 2502 C. Camino Entrada, Santa Fe, NM 87507
Contact Information:
Scott Hutton
SantaFe.com / Hutton Broadcasting
http://www.santafe.com
(505) 471-1067 (Media inquiries only, please)