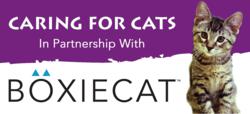 Caring for Cats is an all-volunteer, no-kill shelter and foster network for cats and kittens in North St. Paul, Minnesota. The shelter provides a home-like "Catmosphere" for approximately 40 cats at any time, and 30-40 cats living in foster homes.
Santa Monica, CA (PRWEB) August 21, 2012
Boxiecat, the home cat litter delivery service that has been a hit with cats and cat lovers across the country has added Caring for Cats, Inc. in North St. Paul, Minnesota to its roster of Shelter Partners. The partnership allows Boxiecat to donate a portion of revenue toward the well-being of cats, and, at the same time, lend expertise in raising local and national awareness of shelter initiatives and goals such as adoptions and donations.
Caring for Cats is an all-volunteer, no-kill shelter and foster network for cats and kittens in North St. Paul, Minnesota. The shelter provides a home-like "Catmosphere" for approximately 40 cats at any time, as well as 30-40 cats living in foster homes. Their work provides shelter, food, and the finest medical care for stray, abused, and surrendered cats.
Caring for Cats operates a successful community adoption program, making the cats and kittens entering the shelter and foster network available to persons who demonstrate a desire and ability to provide them a loving and permanent home. In addition, they educate the public about the nature and care of cats. Over 90% of shelter cats find homes on an annual basis. In 2011, it took in 121 cats and found loving homes for 128 of them.
"At Boxiecat our mission is to be good for cats, and good for people," says Boxiecat founder Josh Wiesenfeld. "We started the business so that we could be uniquely useful and solve an everyday problem. Our initial goals included providing truly natural, long lasting, and effective litter, saving people time and energy, and reducing the environmental impact of repeat round trips to the store.
The Boxiecat Partner Program is designed to leverage that foundation for the benefit of cats in need. We admire the dedication of the Caring for Cats team, and look forward working with them in support of cats and the community."
A portion of subscriptions to Boxiecat made through the Caring for Cats website is donated to Caring for Cats, Inc. Adopters also receive a discount with the Boxiecat service.
Adoptable cats and kittens can be met on the Caring for Cats, Inc. Petfinder site. To learn more about adopting, visit the Caring For Cats website at http://www.caring-for-cats.org, or call (651) 407-8485. Visits to the shelter can be made on Mondays, Tuesdays, and Fridays from 5-7:30 pm and on Saturdays and Sundays from 12-4 pm. It is closed on Wednesdays and Thursdays. The shelter is located at 2131 Division Street, North St. Paul, MN 55109 (see map). Caring For Cats, Inc. is a non-profit 501(c)(3) organization and donations are fully tax deductible.
About Boxiecat
Boxiecat is America's first and only subscription cat litter service. All subscriptions come with fast and free home delivery, including to Alaska and Hawaii. Subscribers save time, eliminate round trips to the store, and put an end to lifting and lugging heavy containers. The service features personalized shipment timing and vacation holds. Payments are made on a per shipment basis, and subscribers can pause or cancel their account at any time. Boxiecat provides a unique and convenient solution to the problems associated with cat litter. Boxiecat has subscribers in 46 states and is Better Business Bureau accredited.
Boxiecat has been recommended by Cat Fancy, The Washington Post, About.com, Animal Shelters, and Veterinarians across the U.S., and has been featured by Cornell University School of Veterinary Medicine's Cat Watch Newsletter, USA Today, The San Francisco Chronicle, The Houston Chronicle, Treehugger.com, Examiner.com, among others.
Product Description
Boxiecat manufactures its own brand of Veterinarian recommended, all natural, premium clumping clay. Hard clumps form on the top rather than soaking to the bottom of the box, making litter care a breeze. Boxiecat litter stays ultra-clean even after weeks of scooping. It is unscented and completely eliminates ammonia odors without using fragrance as a masking agent. An over 99.9% dust free cat litter, it is hypo-allergenic and longer lasting.
For more information or to subscribe, visit boxiecat on the web at http://www.boxiecat.com. Customer Care can be reached at (877) 817-0253. For information on becoming a shelter partner, visit the Boxiecat Shelter Partner Program page.