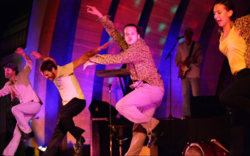 Backed by a live band always ready to bring the furious funk, these artists never seem to miss a beat while tapping, shuffling, snapping and stomping their way into everyone's hearts." –Caroline Palmer
Salt Lake City, Ut (PRWEB) August 21, 2012
Broadway-bound professional dance troupe Rhythmic Circus comes to Salt Lake Community College on Tuesday, September 11. The group will perform 'Feet Don't Fail Me Now' at 7:00 p.m. in the Alder Amphitheater on the College's Taylorsville Redwood Campus.
The group has grown out of what was only recently an underground percussive dance phenomenon into an innovative performance company.
Rhythmic Circus's completely original performance, 'Feet Don't Fail Me Now', is spiced with a variety of musical flavors enlivened by an infectious seven-piece band, vocalists, and a very unique, one-man, a'cappella, beat-boxing sensation.
Rhythmic Circus is a Minneapolis-based ensemble comprised of tap dancers, musicians and vocalists who each have won numerous awards, television appearances, performance productions and educational projects on their respective resumes. 'Feet Don't Fail Me Now' is the group's first full-length collaborative production.
Tickets can purchased at the Grand Theatre Box Office or online at http://www.the-grand.org. Adult tickets are $5; tickets for 12 & under are $3. All children under 3 years of age admitted free.
About the College: Salt Lake Community College is an accredited, student-focused, urban college meeting the diverse needs of the Salt Lake community. Educating and training more than 62,000 people each year, the College is the largest institution of higher education in Utah. The College has 13 sites, an eCampus, and nearly 1,000 continuing education sites located throughout the Salt Lake valley. Courses are offered during both traditional and accelerated semesters, during the daytime, evenings, and weekends. Personal attention from an excellent faculty is paramount at the College, which maintains a student-to-teacher ratio of less than 20 to 1.
# # #