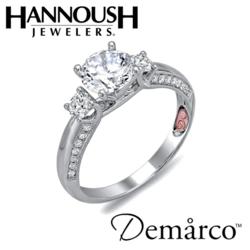 Hannoush Jewelers & Demarco Designer Rings
Los Angeles, CA (PRWEB) August 21, 2012
It is not very often that two giants in their own field join forces. Demarco Designer of Engagement Rings and Hannoush Jewelers have done just that! Hannoush now is an Authorized Demarco Retailer providing their long list of clients with the unique designs of Demarco Heirloom Engagement Rings. Since 1980 Hannoush has been a staple in their communities branching over 40+ Locations. Now that Hannoush is able to provide their consumers with Demarco, combining the designer brand with such an established retailer brand makes this partnership very unique.
With over five decades in jewelry design and manufacturing the quality of craftsmanship that comes with each and every Demarco piece is unmatched.
Demarco is a designer bridal jewelry brand, at the core of their company they have the understanding of the emotional and sentimental values that comes with the process of finding the perfect ring. Not only do they at Demarco make every ring with a unique style and design, but each piece carries a certain elegance about it which is impossible to put in words, simply put when you see or hold a Demarco piece it's simply breathtaking.
Visit your local Hannoush Retailer to view the Demarco Designer Engagement Ring Collection