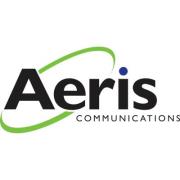 "Aeris is focused on optimizing the entire development cycle for machine communications," said Mark Cratsenburg, VP of sales and marketing at Aeris Communications.
San Jose, CA (PRWEB) August 21, 2012
Aeris® Communications, the only cellular carrier built exclusively for machines, today announced its partnership with Janus Remote Communications, an industry leader in M2M products and solutions, to certify its new plug-in modem that decreases development cycles and eliminates device certification, speeding customer M2M innovations to market.
With the Janus Terminus plug-in modems, customers will have a cost-effective solution that easily integrates into new and existing hardware and requires no device certification when deployed on the Aeris cellular network.
"Our Terminus plug-in modem shortens the development cycle and gives customers the reliability and performance advantage of Aeris' cellular network built exclusively for M2M communication," said Dave Jahr, General Manager, Janus Remote Communications. "We're pleased to partner with Aeris and play a role in driving innovation in the industry with a true M2M pioneer."
"Aeris is focused on optimizing the entire development cycle for machine communications," said Mark Cratsenburg, VP of sales and marketing. "This focus has us looking for targeted solutions – like Janus – to help businesses save development time and costs while getting to market faster. Aeris will continue to proactively seek M2M ecosystem partners that make it simple to create solutions that encourage innovation and propel new technologies forward in the industry."
About Janus Remote Communications
Janus Remote Communications provides state-of-the-art wireless products and services as well as custom design solutions for the global M2M marketplace; http://www.janus-rc.com. Janus solutions are widely used by customers in the areas of asset, process, facility and energy monitoring and control; health, safety and security; and in a whole host of commercial products. Janus solutions span the six pillars of M2M; remote monitoring, RFID, sensor networking, smart services, telematics and telemetry. Janus is a division of The Connor-Winfield Corporation. http://www.janus-rc.com.
About Aeris Communications
Aeris Communications owns and operates the only North American cellular network designed and built from the ground up exclusively for machines. This enables Aeris Communications to deliver the reliability, flexibility, control, and efficiencies that machines demand. From telematics to medical devices to remote machines, the Aeris Communications network is optimized for technical data transmission and device management.
Aeris Communications is more than just a network provider. We enable our customers to use machine-to-machine technology in unique and innovative ways. We make it our mission to understand our customers' present and future goals in order to deliver intelligent, M2M solutions.
For more information, visit us at http://www.aeris.com or follow us on Twitter: @AerisM2M.