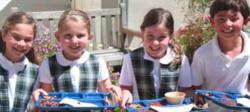 Because all kids deserve more organic, healthy choices and parents need solutions to make that happen.
San Juan Bautista, CA (PRWEB) August 21, 2012
As children go back-to-school and parents worry about whether their children are eating healthy enough, organic food leader Earthbound Farm this week offers real solutions through its "Take an Organic Step Forward" program. The helpful tips and recipes served up daily on this online community are based on three years of on-school and kid-tested experience by Earthbound Farm, which prepares and serves organic hot lunch through the company's certified organic kitchen (run out of Earthbound Farm's Carmel Valley, CA Farm Stand) for the students of All Saints Day School in Carmel Valley, Calif. This is one of the only 100% organic school lunch programs in the country.
While school lunch change isn't easy, Myra Goodman, co-founder of Earthbound Farm, knew that by working closely with the school community, new menus that the students love, made from healthy, organic ingredients were possible. The author of two cookbooks and a mother of two, she worked with the company's executive chef, Sarah LaCasse, to revolutionize the hot lunch program at All Saints School beginning in 2010. In that first school year, Turkey Bolognese Pasta replaced conventional fast food pizza and vending machine options, and organic milk and juices replaced conventional drinks. The kid's enthusiasm for the all-organic menu can be seen on this video: http://www.youtube.com/watch?v=xsFwcEOC-Sg&feature=youtu.be
Take an Organic Step Forward will also dish out lots of goodness during this Back-to-School Week:
What: Daily tips, simple and healthy school night recipes that kids will love, and a 75 cent value coupon on Earthbound Farm snacks and produce.
How: Consumers can "Take an Organic Step Forward" and join Earthbound's growing community at (https://www.facebook.com/earthboundfarm).
When: Mon. Aug. 20 – Fri. Aug. 24, 2012
Why: Because all kids deserve more organic, healthy choices and parents need solutions to make that happen.
# # #
Founded in 1984 on a 2.5-acre backyard garden, Earthbound Farm is now one of the nation's leading organic food companies. Earthbound Farm's nationally lauded food safety program is unparalleled in the produce industry. The company offers more than 100 varieties of certified organic salads, fruits and vegetables grown on nearly 40,000 acres by more than 200 farmers. Taken together, those organic farming methods will keep more than 14 million pounds of conventional chemicals out of the soil, water and air during 2012 alone. For more information, visit Earthbound Farm's website at http://www.ebfarm.com or Facebook.