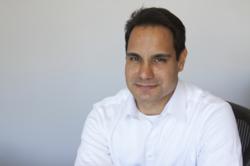 "Neil has joined our team at a critical time as we continue to grow the Fluid Retail Platform," said Kent Deverell, Fluid's CEO.
San Francisco, California (PRWEB) August 22, 2012
Fluid Inc., an award-winning digital agency and creator of on-demand e-commerce solutions for retailers, has added Chief Product Officer Neil Patil to its executive team and promoted three, key management personnel to strategic leadership roles.
This announcement comes on the heels of Fluid's receipt of a $24 million growth equity investment from funds managed by Goldman Sachs Asset Management earlier this year. The infusion of cash is driving growth in the company's established agency services team and is powering the expansion of the Fluid Retail Platform.
In this new role, Patil will oversee the strategy and roadmap for the Fluid Retail Platform, a suite of on-demand, visual merchandising tools that deliver dynamic product interactions and configurations, and enable social shopping and sharing. Patil is responsible for crafting the vision and strategy for Fluid's overall software as a service offerings and leads product engineering, marketing, customer delivery & support, and product management functions.
"Neil has joined our team at a critical time as we continue to grow the Fluid Retail Platform. We've tapped into our established digital agency's best practices to develop affordable and easy-to-maintain on-demand tools to help retailers speed their go-to-market strategies in this fast-paced digital environment," said Kent Deverell, CEO of Fluid Inc. "Neil's impressive SaaS-based product and social media strategy and marketing know-how will take the Fluid Retail Platform to the next level so our hybrid business model can continue to push the envelope in digital creativity and commerce, and drive results for our customers."
Patil has nearly two decades of product strategy and marketing experience at software companies including Overtone, Activant Solutions, Brio Software and Oracle. Previously, Neil served as CMO at Overtone, where he led the company's product strategy and marketing efforts resulting in adoption of customer and social listening programs by Fortune 100 retail, financial, and technology companies. Prior to Overtone, Neil was Vice President of Marketing at Activant Solutions, a retail and distribution software provider, where he oversaw the company's overall marketing activities, re-branding and positioning as the company expanded markets and doubled revenues to over $400M. Patil also served as VP of Global Product Marketing for Brio Software, directing product vision and market strategy during explosive growth of the company's business intelligence solutions used by over 10,000 organizations worldwide.
In addition to adding Patil to the executive team, Fluid's leadership has recently promoted Vice President of Sales Dana Yobst, Vice President of Client Strategy Bridget Fahrland, and Senior Vice President of Development and Delivery Eric Tam.
"Our leadership team welcomes the challenges and demands that have resulted from the success of our hybrid business model and we're poised for continued growth," said Deverell. "Dana, Bridget and Eric are already key leaders who, along with many of their colleagues, are responsible for our achievements to date."
Here's a closer look at these Fluid executives:
Vice President of Sales Dana Yobst is a seasoned entrepreneur with more than 15 years of experience in business development, sales and marketing, product management, and corporate social responsibility. She joined Fluid in early 2011 as the company's director of business development and has grown sales of the on-demand merchandising software solutions significantly. In her new role, Yobst leverages extensive international business acumen to oversee all sales efforts for the Fluid Retail solutions. She graduated magna cum laude with a Bachelor of Science in international business and marketing from the University of Richmond and The University of Queensland.
Vice President of Client Strategy Bridget Fahrland is a strategic leader with more than 15 years of ecommerce strategy, brand development, design direction and multi-channel marketing experience. Prior to the promotion, Fahrland served as director of client strategy, where she earned kudos from clients and colleagues for her innovative thinking and collaborative leadership style. She earned a Bachelor of Arts from from Mount Holyoke College and a Master of Arts in writing from Boston University.
Senior Vice President of Development and Delivery Eric Tam will now oversee the account management, project management and engineering teams that create strategic interactions with current and new clients to optimize their use of Fluid's agency services and the Fluid Retail online merchandising solutions. Eric previously served as vice president of account services. With his extensive background in business management, and web design and development, Tam leverages his strategic insight and a holistic view of the creative and technical process to lead teams. Prior to joining Fluid, he served as co-founder and CEO of Red Eye Digital Media, a full-service web design and development company. Eric earned a Bachelor of Science in economics from the University of California, Berkeley.
For information about Fluid, visit http://www.fluid.com. To learn about job opportunities at Fluid, visit http://www.fluid.com/careers.
About Fluid
Fluid's award-winning digital agency services and on-demand Fluid Retail Platform of online visual merchandising solutions incite consumer action. Our work for world-class customers like The North Face, Quidsi Brands, Sears, Benefit Cosmetics, JELD-WEN, and Brooks Brothers spans consumer experiences across the web, social and mobile. Brands and retailers tap our unique combination of strategic consulting, custom design and development services, and our scalable, easy-to-implement e-commerce products to delight and engage today's digitally savvy consumers, while building engagement, increasing brand loyalty and driving conversions.
Fluid is headquartered in San Francisco, with offices in New York and Chicago, and customers spanning the globe. For more information, visit http://www.fluid.com, and follow us on Twitter @Fluid or Facebook/FluidInc.