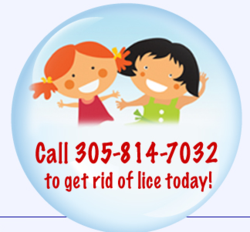 The thought of waiting 10 days between treatments offered by other services or products added to my stress.
Miami, FL (PRWEB) August 21, 2012
End of summer means back to school stress for many parents. Having a child sent home due to head lice can add even more due to the time and expense involved in removing lice and nits. Magic Lice Removal uses cutting edge technology in head lice removal to kill and get rid of lice in a single treatment.
"Many parents don't know how to check for lice and frequently ignore symptoms of lice," said Tova Levine, Founder of Magic Lice Removal. "While children are out of school during the summer, head lice can go undetected for months, leading to the perceived 'outbreak' once children are back in school."
Magic Lice Removal is based in Miami and offers in-home lice removal services throughout South Florida. Levine uses the FDA-cleared LouseBuster device to treat her clients. The LouseBuster™ device is a safe and fast treatment that is highly effective at not only killing live lice, but also their eggs. Overall, greater than 99% of the eggs on people treated with the LouseBuster™ device are dead following treatment.
National Pediculosis Association President, Deborah Altschuler notes, "The NPA is elated to see this invention become available. We appreciate Larada Sciences' commitment to the research and successful development of a non-chemical, environmentally responsible treatment for children with head lice. We see it going a long way to help the NPA accomplish its mission to protect children from potentially harmful pesticidal treatments."
Levine has experience using manual removal and uses that experience in combination with the LouseBuster treatment. She is in agreement with the NPA that there are many lice products on the market that can be harmful to children. Magic Lice Removal features the LouseBuster lice treatment option that not only is safe, but kills and removes lice and nits in a single treatment, saving parents money and time by removing the need for follow up appointments.
Magic Lice Removal customer, Shaindy F., was thrilled with the LouseBuster treatment, stating, "As any mother would react, I was mortified to learn my kids had lice. The thought of waiting 10 days between treatments offered by other services or products added to my stress. I just wanted it gone! I was able to get rid of it naturally and immediately with Magic Lice Removal's service. We woke the next day and it was as if it never happened."
For more information about lice removal options throughout South Florida, contact Magic Lice Removal at MagicLiceRemoval.com.
About Magic Lice Removal
Magic Lice Removal (MagicLiceRemoval.com) was founded by Tova Levine to offer non-toxic lice removal throughout South Florida. The affordable in-home service offers both convenience and privacy. The products and methods used are safe, non-toxic and all natural. For more information about Magic Lice Removal or the LouseBuster™ device, call or visit the website. We make head lice disappear!