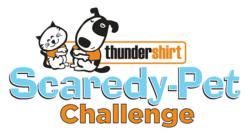 We will provide credentialed media with three Thundeshirts to test on local dogs and/or cats in your area.
Durham, NC (PRWEB) August 23, 2012
Thundershirt has helped hundreds of thousands of dogs and cats across the nation suffering from anxiety and fear, often caused by storms, separation, travel and many other circumstances. But the concept is so simple it may have you asking yourself - does it really work?
Using a gentle, constant pressure to calm your dog or cat, similar to the way parents swaddle their infants, Thundershirt effectively relieves most any anxiety, fearfulness, over-excitement, barking and more.
But, don't just take the company's word for it - put it to the test yourself with Thundershirt's new Scaredy Pet Challenge!
Thundershirt will provide credentialed media with three Thundeshirts to test on local dogs and/or cats in your area. All it needs are your Thundershirts' size requests, shipping instructions and deadline. Visit http://www.Thundershirt.com/Media for a direct link to the Scaredy Pet Challenge, to view all of our product press releases, watch testimonial videos and more. Test the product with pets and their parents in your city, and report on the findings.
The Scaredy Pet Challenge is open to credentialed media only.
For more information about the Thundershirt Scaredy Pet Challenge, or to request an interview with Thundershirt Founder Phil Blizzard, please contact Kerry Sutherland at K. Sutherland PR, Kerry(at)ksutherlandpr(dot)com or 775-848-0905.

About Thundershirt
Founded in 2009 in Durham, N.C., Thundershirt's mission is to bring relief to the millions of dogs, cats and their families struggling to cope with anxieties. The Thundershirt is designed to apply a constant, gentle pressure to a dog or cat's torso creating a dramatic calming effect for most users. Thundershirt continues to investigate dog and cat anxiety and fear issues with scientific-based studies and surveys from recognized veterinarians and pet owners. Thundershirt has already helped hundreds of thousands of dogs across the country and around the world.
The company also donates thousands of Thundershirts and funding to rescue groups and shelters to help these organizations manage their anxiety cases and find permanent homes. Thundershirts are sold online at http://www.thundershirt.com and by retail stores, veterinarians, trainers and kennels across the country.