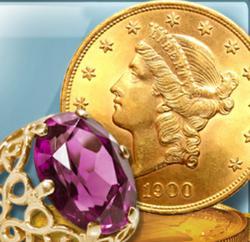 Chief Auctioneer Paul Sabesky commented that, "Numismatics consider this coin to be a must have in any coin collection because of the coins unique artistic design and gold content"
Tehachapi, CA (PRWEB) August 21, 2012
Famed novelist George Eliot once said, "These gems have life in them: their colors speak, say what words fail of". Ms. Eliot may have been referring to our fascination with precious gems and how in a personal way they may have a multitude of meanings such as symbolic, investment, marking occasions, or to fulfill a want . In keeping with fulfilling the want, a large collection of jewelry and loose diamond gemstones will be featured in this auction. A truly grand piece is a 13CT Emerald w/2 CT of Diamonds - 18kt Gold Ring. The large emerald is framed by diamonds with a total ring weight of 16.70 gm. The main emerald does have inclusions which is not uncommon with a stone of this size and color.
Collectors of luxury watches will be pleased to note the quantity of previously owned timepieces offered. A watch receiving a great amount of interest is a Rolex Men's Oyster Watch. The watch is a Perpetual Datejust made of stainless steel and gold with a black face. Another fine piece for auction is a Rolex Women's Oyster Watch. Also a Perpetual Datejust, this watch is crafted of stainless steel with a steel face.
A large selection of rare gold coins will also be featured in this auction. A highly collectible investment coinage piece is a 1911 $10 U.S. Indian Head Gold Coin. Designed by sculptor Augustus Saint-Gaudens, the $10 Indian Heads gold coin was struck in Philadelphia and features Lady Liberty wearing a full Indian headdress. The reverse bears a proud American Eagle with the motto "In God We Trust". Chief Auctioneer Paul Sabesky commented that, "Numismatics consider this coin to be a must have in any coin collection because of the coins unique artistic design and gold content".
In addition to the luxury items being presented, the auction house is also featuring a collection of antique and vintage slot machines. A beautiful example of old time craftsmanship is the early 1900's Antique Dewey Upright Slot Machine up for auction. These type of antique slot machines are the predecessors to the electronic and pull slot machines we play in the casinos today. The "Dewey" was named after the Spanish-American War naval leader Admiral George Dewey who is best known for his victory at the Battle of Manila Bay during the Spanish-American War. The machine is highly ornate made of oak with brass legs and trim. The center piece features an image of Admiral Dewey. This piece is fully restored and working.
Additional auction highlights include a Authentic Python Skin Top of the Line Coach Purse, 1880 - $10 Liberty Gold Coin, 3CT Tanzanite & Diamond Ring and more.
To view this auction please click the link below
Historic Auction Event - Over 1000 Items - Sunday, Aug 26th, 2012 | 6:30 AM Pacific
For additional information on any lot in the sale, call Debbie on 661-823-1543 or e-mail info(at)governmentauction(dot)com.
About Government Auction
Government Auction was founded as a general resource to buying assets such as jewelry , gemstones, memorabilia, collectibles, art, prints, antiques, and vehicles throughout the United States. Most people don't realize there are hundreds of thousands of assets and valuables that are seized everyday and made available through various resources. Many of these confiscated assets are passed on to us for immediate liquidation. Some examples of how we acquire requisitioned objects are from bankruptcies, IRS, estate sales, trusts, and more.
Government Auction is the largest company of its kind and the only one in the United States that works closely with these agencies to acquire literally thousands of assets and confiscated goods, such as Ruby Gemstones, Sapphire Rings, and Men's President Rolex Watches, Mercedes Benz, and Gold Coins. In most cases we acquire these treasures at a fraction of their actual retail value. Once acquired these items are liquidated through the auction site. Clients are made up of just the everyday person who wants to buy a Diamond Bracelet, Pearl Strand Necklace, Sterling Silver Pink Sapphire Earrings, Oval Cut Emerald Gemstone Parcel, Remington Bronze Reissue at an unbeatable price.
All assets that we offer are normally at a 30% - 60% savings to the client. What this means is consumers are making a good investment immediately. By purchasing assets cheaply people can make a sizeable profit if they decide to resell it later on.
Government Auction is one of the most reputable jewelry and gem clearinghouse company in the U.S., with over 20 years of experience.