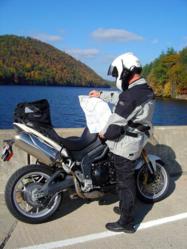 Asheville, NC (PRWEB) August 21, 2012
The 2012 Great Smoky Motomarathon™ is confirmed for October 27-30—the height of fall color season in the Blue Ridge Mountains. The four-day event will route endurance motorcyclists away from tourist traffic over a myriad of twisty, paved back roads where riders average eight hours in the saddle each day.
"The Great Smoky Motomarathon is designed for long-distance riders who want to see the best fall colors while beating the leaf-peeper traffic," said cartographer, Routemaster and purveyor of America Rides Maps Wayne Busch, of Waynesville, NC. "The tourists tend to avoid the hidden back roads that are too twisty and tight for RVs, but just right for sport-touring."
"Enlightened routes over hidden, out-of-the-way roads is what Motomarathons are all about, and no one is better qualified to design our first event in the Southeastern U.S. than Wayne Busch," said Motomarathon Association Founder John Metzger. "I've heard about it all my life, but have never ridden in the Blue Ridge region. I can't wait to see the colors, the waterfalls, forests and the mountains of Tennessee, the Carolinas and Georgia riding roads that only a local expert like Wayne can reveal."
Eurosport Asheville is sponsor of the Start and Stop Location on Days One and Four. Riders will meet there at 8:00 p.m. on Oct. 26th and the following morning at 8:00 a.m. to receive route sheets for Day One. For Days 2 through 4, the Loop-Base and hotel for the nights of Oct. 27th, 28th and 29th is the Fontana Village Resort, 300 Woods Rd., Fontana Dam, NC 28733, 800-849-2258. Rooms are filing up quickly, so make your reservations soon.
Motomarathon routes and checkpoints are kept secret until the night before each day's ride. Participants complete a series of self-recorded checkpoints using digital cameras to photograph their badge numbers at designated landmarks.
For more information or to register for the event click here Motomarathon: Register Now or contact Caty Metzger at motomarathon1(at)gmail(dot)com or at 303.621.5356.