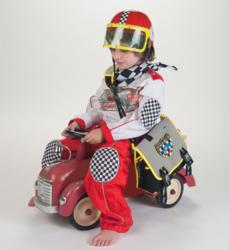 San Mateo, CA (PRWEB) August 22, 2012
SuperME™, a new line of children's bags that combine the functionality of backpacks and lunch bags with the fun of superhero dress-up play while helping children uncover their inner super-hero, will be participating as a vendor sponsor at the 56th Annual Hillsborough Concours d'Elegance on Sunday, August 26th held at Crystal Springs Golf Course in Burlingame, California. The Hillsborough Concours is an event for vintage car owners and enthusiasts to view prized vehicles and share in the preservation of automotive authenticity.
SuperME will be exhibiting and selling their collection of contemporary cape backpacks and messenger-style lunch bags at this prestigious event. In celebration of the event, SuperME will be offering a complimentary special edition racer patch with the purchase of any cape backpack or messenger style lunch bag. Inspired by antique racecars, this patch is perfect for little car enthusiasts.
SuperME has three categories of product:
Cape backpacks (MSRP $45) – This sleek, stylish backpack has a built-in superhero cape along with a coordinating superhero eye mask. The superhero cape is stored in a hidden zipper pocket when not in use. Pulled out, it drapes heroically over the backpack. In either form, it is an eye-catching backpack sure to inspire pride in those who are wearing it. Backpacks are sized for pre-schoolers and young children.
Messenger-style lunch bags (MSRP $35) – The messenger-style lunch bag features a removable shoulder strap. The strap transforms into a superhero utility belt and the bag converts into a hand-held satchel style bag. These stylish bags include a shoulder pad for comfort and feature two outside pockets sized to fit water bottles, and inside pockets to keep lunch items and daily essentials organized. The messenger bags are sized to fit pre-schoolers to tweens.
SuperME patches (MSRP $5) – These Velcro shield-shaped patches, which work with both bag styles, reflect a variety of interests and hobbies such as sports (football, soccer, swimming, cycling), fashion, and music.
Both bag styles are available in five color combinations: Classic (red/blue/yellow), Bubblicious (pink/purple/yellow), Urbanista (black/silver/pink), Ninja (black/silver/yellow), and Naturalist (yellow/green/orange). SuperME bags and patches are available online at http://www.supermehero.com and at Talbot's Toyland in San Mateo, California.
About SuperME
SuperME is a San Francisco based company created by two Super moms: Daphne Kaufer and Rena Stern. The inspiration for SuperME came from their children, who love dressing up and carrying their own bags to school, parks, day trips, and vacations. Their goal for SuperME was to create a line of functional products that are fun to play with and reflect the uniqueness of each child.