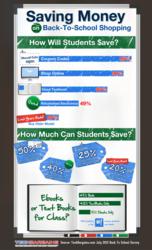 Because students are comfortable buying used items like textbooks and furniture, they seem to gravitate to refurbished older model electronics and computers, which can yield savings up to 40%
San Francisco, CA (PRWEB) August 21, 2012
TechBargains.com, a deal aggregation website for electronic products, released additional results from its Back-to-School survey revealing that 49% of survey respondents may buy refurbished or used electronics for back-to-school this year in order to save money. The survey indicated that 47% of students plan to use a combination of e-books and textbooks for school this year with the majority of people (47%) citing affordability as their primary reason for purchasing e-books, followed by 34% saying it was because they currently own a tablet/e-reader. The survey also demonstrated that 80% of people are planning to purchase used textbooks this year.
"With survey respondents planning an increase in electronic purchases this back-to-school season, students and parents are finding creative ways to pinch an extra penny," said Yung Trang, president and editor in chief of TechBargains.com. "Because students are comfortable buying used items like textbooks and furniture, they seem to gravitate to refurbished older model electronics and computers, which can yield savings up to 40%. However, to prevent unexpected costs in the future we recommend you purchase items from reputable manufacturers that offer a warranty."
The survey demonstrated that about one in four of those who expect to purchase a tablet, laptop or desktop indicated a plan to purchase an older model instead of the most recent edition. A TechBargains.com infographic illustrating how people plan to be saving money for back-to-school shopping this year can be found here. The survey was conducted on TechBargains.com and had 1,393 respondents.
TechBargains.com provides additional helpful resources for consumers with its Back To School Guide featuring exclusive deals and coupon codes on computers, tablets, clothing and more.
About TechBargains
TechBargains is a deal aggregation website that combines intelligent curation with real-time price-value discovery algorithms. TechBargains uses this technology to highlight the best deals and coupon codes on the internet each day. TechBargains is a division of Exponential Interactive (http://www.exponential.com), a global provider of advertising intelligence and digital media solutions to brand advertisers headquartered in Emeryville, California that offers solutions in 26 countries worldwide. For more information visit http://www.techbargains.com.