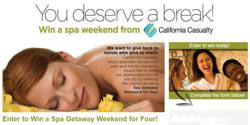 The Give a Nurse a Break sweepstakes is a way we're showing nurses that we appreciate them. We're excited to send a lucky nurse and three friends or co-workers on a dream vacation to relax, rest, and rejuvenate. -- Mike McCormick, VP California Casualty
San Mateo, CA (PRWEB) August 21, 2012
The "Give a Nurse A Break" sweepstakes sponsored by California Casualty is designed to recognize and reward America's hard working nurses for their dedication and tireless service. One lucky nurse will win a grand prize vacation for four people to the world-famous "Chocolate Spa" at The Hotel Hershey in Pennsylvania. The prize includes transportation, hotel accommodations, meals for three days and two nights, and a full day of pampering at the Chocolate Spa.
"The Give a Nurse a Break sweepstakes is one way we are showing nurses everywhere that we appreciate them. We're excited to send a lucky nurse and three friends or co-workers on a dream vacation to relax, rest, and rejuvenate." says Mike McCormick, Vice President of California Casualty. "We've had overwhelming response to the sweepstakes so far, but we're encouraging nurses to "take a friend and tell a friend" to increase their odds of winning this fantastic prize."
To enter the "Give a Nurse a Break" sweepstakes, qualified nurses can visit http://go.calcas.com/relax before August 31, 2012. No purchase is required.
California Casualty provides auto and home insurance to the most valuable and dedicated members of our society, including nurses, educators, law enforcement personnel, and firefighters.
For media inquiries, please contact Marty Fahncke at FawnKey and Associates at 1-888-643-8215 or pr(at)awnkey(dot)com.
About California Casualty
California Casualty is a 98-year-old policyholder-owned company headquartered in San Mateo, CA with service centers in Arizona, Colorado and Kansas. More information about their auto and home insurance for firefighters, peace officers, educators, and nurses can be found at http://www.calcas.com.