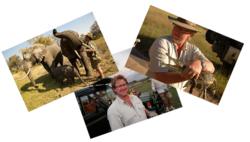 JOHANNESBURG, SOUTH AFRICA (PRWEB) August 20, 2012
Cheetah in the Dash, Galago in the High Jump, Gorilla in the Clean and Jerk, Flea in the Long Jump and Dung Beetle in the Snatch Go for the Gold!
Spending most of his life in the wild, Michael Lorentz has developed a photographic eye for fantastic displays of speed, agility and strength. In his world, the Safari Olympics happen all the time with a broad range of international competitors from the animal kingdom. They may not have the glamor of the London Olympics, but these contests are high on drama as the gold medalist generally gets to eat the silver medalist.
"I've been in the bush throughout the Olympics, so I barely know who's won what," said Lorentz, whose work has been featured at the Smithsonian National Museum of Natural History in Washington, DC. "I'm sorry to have missed it, but my consolation is that I have a ringside seat for competitions of a different kind. The contests we witness on safari are not purely physical; cooperation, guile and sometimes selflessness have their counterparts in the bush as in the Olympics. But the gold medal in nature usually confers nothing more than another day of life and the chance to pass on your genes."
The winning qualities on display at the Olympics have evolved as humans have competed with each other (and other species) for survival. Michael has watched these struggles play out daily in the wild his whole life and it's one of the most fascinating parts of what he does for a living. So, in the spirit of London 2012, and the Olympic motto of faster, higher, stronger, he's picked the following team of Animal Olympic Medalists who have proven to be the best of the best.

"For pure speed, I'm going with the cheetah, which is the quickest mammal on the planet. To make up a team of four for the relay, I'm going to add in a dragonfly (the Southern Giant Darner which can reach 60mph), a tiger beetle (22 times faster than Usain Bolt, given its size) and a peregrine falcon, which has been clocked at 200 mph when it's diving onto prey."
"To compete in the high jump events, I'm taking two from my native South Africa: the Klipspringer antelope, which can leap 15 times its own height – about 25 feet, and a galago, or bushbaby. My long-jumper is a flea."
"For strength, I'm choosing animals from opposite ends of the size spectrum. My super heavyweights are the elephant and the gorilla, which weighs up to 450 pounds and can reportedly lift 10 times that weight."
"My featherweight contenders for strongest animals are the rhino and dung beetles, each of which can lift many hundred times its own weight."
A PASSION FOR AFRICA: About Michael Lorentz
Michael Lorentz is passionate about wildlife and the wilderness. He started his life in the bush in South Africa's Timbavati Game reserve in 1985, then moved to Botswana as assistant general manager of Gametrackers safaris. In 1991 he met Randall Moore, who successfully returned elephants from zoos back to the wild, and formed Elephant Back Safaris on half a million acres in the Okavango Delta. After nine successful years, Michael moved back to South Africa and joined forces with Mike Kirkinis to develop Passage to Africa. Michael now lives in Cape Town with his family and is heavily involved in ecotourism and conservation. Guiding remains his first professional love and he personally conducts privately guided safaris throughout Botswana, Zambia, South Africa, Namibia and East Africa.
ABOUT PASSAGE TO AFRICA
Passage to Africa is a premier safari company comprised of some of the most respected African safari specialists including Michael Lorentz, who started his bush career in South Africa's Timbavati Game reserve in 1985. He gained fame for creating Elephant Back Safaris in Botswana in 1991 before starting Passage to Africa in 2000 where he and his fellow guides are legends for family and solo adventure, conservation and historical safaris to Africa and beyond.
For information and reservations, please contact Passage to Africa, at +27 15 793 0811; or visit the Web site at http://www.passagetoafrica.com.