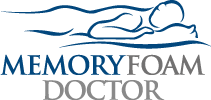 We really believe that everyone deserves the best night sleep possible.
Miami, FL (PRWEB) August 21, 2012
August 21, 2012 – With a commitment to environmental stewardship and the importance of healthy sleep, MemoryFoamDoctor.com this week launched its new website featuring 100 percent environmentally friendly memory foam sleep products, priced 30-50 percent below major brand name competitors, with all the same advanced memory foam quality designed to support, cradle, and enhance circulation for deep, restful sleep.
MemoryFoamDoctor.com offers doctor-recommended, premium sleep products including memory foam mattresses, toppers, and latex pillows to provide the most comfortable and supportive sleep experience possible.
Each Memory Foam Doctor mattress offers full body support, reducing pressure points by conforming to each individual's unique body curves while supporting the lumbar, hips, and shoulders and maintaining neck and spine alignment. The result is a deep, healthy sleep uninterrupted by motion from a partner's sleep activity – the memory foam absorbs movement before it can travel across the mattress.
Memory Foam Doctor makes sleep a priority for everyone by providing premium memory foam products at prices well below those of most competitors.
"We are proud of our eco-friendly line of memory foam products and the fact that ours are among the lowest prices on the market," says Memory Foam Doctor President Robert Gilbert.
"Compare our products to Tempur-Pedic® or any other major memory foam brands and not only do we compete with their quality, we trump the others on price," Gilbert says. "We have developed a line of sleep products that create a more restful and rejuvenating sleep experience that everyone can benefit from, and we've done it affordably because we really believe that everyone deserves the best night sleep possible."
For more information and to view the Memory Foam Doctor line of sleep products, visit the website at http://www.MemoryFoamDoctor.com.
About MemoryFoamDoctor.com:
Founded by recent college graduate Robert Gilbert and Stanford University student Ryan Breslow, offers eco-friendly products made from soy-based memory foam, and pillows made with 100 percent renewable latex. More than just the products are environmentally friendly – the company's business model, from the clean manufacturing processes right down to the environmentally friendly shipping methods provide customers with high quality, affordable, eco-friendly memory foam mattresses, toppers, and pillows that produce a low carbon footprint.
MemoryFoamDoctor.com offers a10 percent cash rebate to customers who purchase a mattress, topper, or pillow and submit a detailed review about their Memory Foam Doctor product experience. For more information on student discount specials or to learn more about Memory Foam Doctor products, visit http://www.MemoryFoamDoctor.com.
###