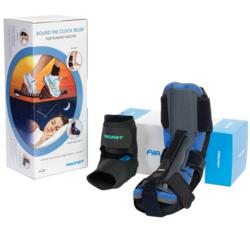 Aircast is a brand that has been trusted by medical professionals for over 30 years
Sydney, Australia (PRWEB) August 22, 2012
BetterBraces.com.au, the sports bracing and therapy experts, is now selling the latest Aircast product that is clinically proven to provide relief from plantar fasciitis.
Plantar fasciitis is a very painful condition that is caused by the inflammation of the plantar fascia, the connective tissue on the bottom of the foot. Those suffering from this condition are looking for immediate relief, which is provided from this new product created by Aircast.
Aircast's concept of Round the Clock Relief incorporates two of its best selling products – the AirHeel and the Dorsal Night Splint. The AirHeel provides comfort and massaging relief during the day. The Dorsal Night Splint provides tailored flexion and optimal comfort for pain relief at night.
"Aircast is a brand that has been trusted by medical professionals for over 30 years", stated Imogen Williams, marketing co-ordinator for BetterBraces.com.au. "We are pleased to introduce their new comprehensive approach to plantar fasciitis support to the Australian market".
The Aircast AirHeel and Dorsal Night Splint cost $99.95 and can be purchased online from BetterBraces.com.au.
BetterBraces.com.au is the online source for braces, supports, and therapy products from the industry's leading brands– DonJoy, Aircast, Compex, ProCare, Saunders, and Chattanooga.