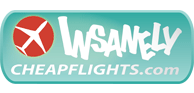 Denver, Colorado (PRWEB) August 21, 2012
Cheap fare-finder, InsanelyCheapFlights.com, today announced the arrival of their sale on flights to Denver, Colorado. The website already focuses on finding cheap flights to anywhere in the world, but with the additional discount flyers to and from Denver can save even more on their travel plans.
Nicknamed The Mile-High City for its elevation a full mile above sea-level, Denver is a city brimming with vibrancy and life. There's certainly more than enough to keep any visitor entertained for the duration of their stay.
A summer visit presents the chance to witness the traditional Colorado Dragon Boat Festival, and there's plenty more for those looking to enjoy local art and culture. Highlights include the Sculpture Garden of Western Art and the Denver Museum of Nature and Science. The Denver Zoo is a great day out for children and adults alike, while the Colorado Rockies and Denver Broncos can take care of your sporting passions.
One of Denver's greatest attractions is its relative proximity to the Rocky Mountain National Park. Visitors can take the 71-mile drive out to the Park and revel in the excitement of driving on the highest continuous highway in the world.
The Red Rocks Amphitheatre is just a short drive outside of Denver and features flawless acoustics in a completely natural setting.
And when it's time to get back into the city and enjoy the Denver nightlife, there's more than enough variety and fun for everyone. Beer fans will be delighted to discover that Denver brews more of the stuff than any other city in the US. While visitors can find just about every cuisine from around the world, Denver steak houses are not to be missed.
For those looking to escape the city for a short break or to visit relatives, Insanely CheapFlights.com's discount works both ways, so whether it's a golfing break to Palm Spring in California or a weekend sight-seeing in Washington, there are plenty of discounts to be enjoyed on flights across the US.
To save on flights, visitors to the site must use the promotional code provided on the homepage when purchasing airline tickets. The promotion applies to service fees and flight bookings only.