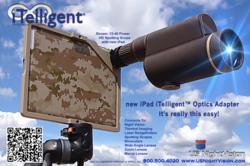 Roseville, CA (PRWEB) August 22, 2012
US Night Vision Corporation unveils the newest addition to their line of iTelligent™ smart device adapters. Based on the success of their initial iPhone Night Vision & Optics Adapter, US Night Vision Corporation has just released their new iTelligent™ new iPad Night Vision & Optics Adapter (patent pending).
This precision made case/adapter will allow new iPad users to connect their iPad to wide variety of Electro-Optical (Night Vision), Thermal (Infrared), and daytime optics such as Laser Range Finders, Long Range Spotting Scopes, Binoculars & Commercial 37mm Lenses. US Night Vision continues to design a series of easy to install adapter rings that allow the iTelligent™ case to adapt to a growing number of military, professional and commercial grade optics.
http://www.usnightvision.com/ipad3nightvisionandopticsadapters.aspx
Chris Byrd, Vice President, US Night Vision commented, " The new iPad is an incredible tool in the field, and we just made it even better. The ability to connect optics to this device and utilize the high-resolution camera and retina display is simply an amazing leap in technology. Our adapters have literally bridged the gap between optical and digital devices like never before. We have major corporations backing the technology and creating custom applications to complement their products, and we are looking forward to producing more."
The standoff and over-watch capability with long-range high power optics is crystal clear and in HD. All video recorded with the new iPad can be zoomed to 6X while being played back. It can then be stopped, image-captured, saved, and sent out all within seconds. GPS, time/date stamping, and mapping are all standard with the device. The applications for the military & law enforcement as well as commercial markets are limitless with this new technology.
The iTelligent™ series adapters for the new iPad are manufactured in the U.S.A. to the highest standards. Three colors include Black Teflon® Finish, Desert Tan Xylan® Finish, and OD Green Xylan® Finish. The frames are equipped with an unprecedented ten each 1/4-20 mounting points to cover all mounting needs such as tripod, lasers, lights, and large optic stabilization. To finish the product, we leave easy access to all buttons and features of the new iPad.
As part of the new product rollout, US Night Vision Corp has branded the new family of smart adapters as iTelligent™. US Night Vision Corporation, based in Roseville, CA, is a world-leading supplier of night vision and tactical related products for the U.S. Military, international military forces, and U.S. law enforcement and commercial markets.
Contact: Chris Byrd cbyrd(at)usnightvision(dot)com or to learn more, visit: http://www.usnightvision.com
iPad® & iPhone® are registered trademarks of APPLE, Inc.
Teflon® is a registered trademark of E. I. du Pont de Nemours and Company
Xylan® is a registered trademark of Whitford Corporation