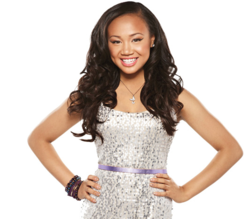 Los Angeles, CA (PRWEB) August 21, 2012
Daughter of businessman, music mogul and philanthropist Percy Miller and sister of Romeo Miller, Cymphonique has made a substantial name for herself as a writer, singer, actress and girls empowerment advocate. She has built a diverse R&B, Pop and Hip-Hop fan base and successfully launched her own brand and identity. Aside from her professional television and music career, she is inspired by her passion to help others and has created a book series to empower young girls called Fabulous Girls. Further, she founded Fabulous Girls Charity to help bring awareness and support to children with cancer. Cymphonique is the official spokesperson for BYOU- Be Your Own You, a girls' self-esteem brand empowering girls through education, positive messaging, attractive apparel and accessories and editorial magazine.
To continue her passion and mission to support girls and women's empowerment, Cymphonique is scheduled to perform on the first evening of the 2-day California Women's Conference, September 23, 2012 at the Long Beach Convention Center.
BYOU has officially partnered with The California Women's Conference to help promote tween and teen girl attendance. BYOU is producing an entire section of the exhibit hall dedicated to the tween and teen girl audience, including a panel of teenage speakers addressing girls' self-esteem, Internet and technology safety, empowerment, bullying, body image and more. The street will also feature interactive activities for all attendees.
The California Women's Conference, which is an internationally acclaimed forum for the world's most influential voices, hearts and minds, will be held at the Long Beach Convention Center on September 23-24, 2012. For tickets and more information about this event visit: http://www.californiawomensconference.com/
About the California Women's Conference -The predecessor of the California Women's Conference (CWC), namely the California Governor & First Lady's Conference on Women was an annual non-partisan event, and was created in 1985 by then-Governor George Deukmejian, to address the high failure rate among women-owned businesses by giving women entrepreneurs greater access to funding and other helpful resources. Selecting the city of Long Beach as the event's host, city officials and businesses quickly became enthusiastic supporters. Then-First Lady Gloria Deukmejian assumed responsibility for the conference, which became known as the California Governor and First Lady's Conference. Since then, the CWC has always attracted a highly respected and celebrated list of speakers. Today, the tradition of enthusiastically serving women-owned businesses continues under the stewardship of Michelle Patterson, CEO of EventComplete.
About BYOU- Be Your Own You is a self-esteem lifestyle brand that was formed with the purpose of empowering girls and women through positive messaging, apparel and accessories; educational programs and a magazine. BYOU was formed in partnership with Children's Edutainment Network and Cymphonique Miller. Today, BYOU is building a brand that will touch the lives of girls and women worldwide. For more information, and to check out the online store visit, http://www.BeYourOwnYou.com