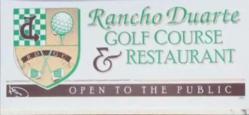 "The PR is a nice touch but we at Rancho Duarte are committed to providing clients with cutting edge, easy to understand products that will help them improve their game. That is why we are carrying the 1SwingThought.com line of products
Los Angeles, CA (PRWEB) August 22, 2012
Last week 1SwingThought.com kicked off it's entry into retail golf shops by placing it's new swing aid golf accessory in Rancho Duarte Golf Course's pro shop. In exchange for prominent placement of it's POS display, 1SwingThought.com will provide Rancho Duarte's well-stocked pro shop with generous margins and public relations through PRWEb, the world's #1 news release service with the highest rated SEO.
1SwingThought.com will feature newly signed retail golf shops in a press release that PRWeb will send to major search engines like Google, Yahoo! News, and Bing. PRWeb sends to 30,000+ journalists and bloggers as well as 250,000+ PRWeb opt-in news subscribers. They host 1SwingThought.com's news releases on PRWeb.com, which receives over 3 million visitors each month.
Alex Quintana, the General Manger of Rancho Duarte said "The PR is a nice touch but we at Rancho Duarte are committed to providing clients with cutting edge, easy to understand products that will help them improve their game. That is why we are carrying the 1SwingThought.com line of products."
About Rancho Duarte Golf Course
Rancho Duarte is home to golfers of all levels, from beginners to professionals. Their facility offers a golf shop that is stocked with merchandise from the top manufacturers in the industry, including Titleist, Nike, Cleveland, and Callaway. They also provide professional golf instruction for all ages and levels of ability. Our teaching professionals each have decades of teaching experience and enjoy teaching players of all levels. Rancho's practice facilities include a driving range, chipping green, putting green and a practice bunker. Conveniently located at the bottom of the San Gabriel foothills, Rancho is easily accessible from the freeway, but secluded from the noise of the highway...an ideal setting for golf. Rancho is known as the facility with the "Best Greens in Southern California".
About 1SwingThought.com
A BILMBA Marketing & Associates owned and operated site with a patent pending line of golf lesson and swing thought stickers, located in Los Angeles CA. 1SwingThought.com sells high quality vinyl swing thought and image stickers, developed with golfers and professional golf teachers, that are water resistant, sun resistant, removable and USGA compliant.