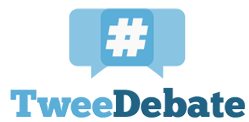 Follow Your Passion!
Morgan City, MS (PRWEB) August 28, 2012
There's a new app that has been developed, for Twitter, called Tweedebate.
What makes this app so unique when compared to all of the thousands of other apps floating around the internet is that it gives Twitter users a place to gather and talk about the things they are most passionate about.
In a nutshell, the app is the new age of old discussion boards where a group of Twitter users who have the same love or passion can get together and discuss a variety of topics.
So just how can this app benefit a business?
There are a number of benefits, but here are three quick and easy ways that any business can benefit from using Tweedebate.
Benefit #1: Participate as an expert: What makes this app so special is that it uses experts in every field and topic imaginable and by serving as an expert in their chosen niche or topic, their business will automatically be recognized as an expert or go-to place for answers.
Needless to say that being viewed as the go-to place is a great way to make a sale. This benefit alone is a sure enough reason to use it.
Benefit# 2: Instant exposure to a broader audience: There's no secret that when people are a regular participant on a forum or any type of social media platform, they are instantly opening themselves up to gain exposure to potential clients that otherwise would have never known or heard about their company.
Well, that's exactly what Tweedebate does for their business. It puts them in front of people searching for answers and once their business provides the answer for those searching, they have instantly put their business in a good light.
Representatives of businesses can never ever have too much good exposure.
Benefit #3: Branding opportunities: Social media as a whole has exploded over the past few years and is now a place where people from all backgrounds go for quick answers, updates, and everything else in between.
With Tweedebate being a Twitter app, participating is like being the main feature on a billboard on a busy virtual interstate.
Not only will they increase the amount of awareness about their company, but they will also brand their business as the No. 1 source for information in their chosen niche.
These are just a few ways on how businesses can benefit from using Tweedebate and if a business participates, attracting more and profiting more is just the beginning.
Go ahead and give it a shot.