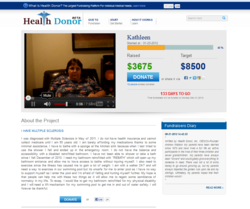 "I have Multiple Sclerosis, and HealthDonor has helped me pay ongoing medical expenses, including building a handicap accessible bathroom," states Kathy Watson
San Jose, CA (PRWEB) August 22, 2012
HealthDonor has announced the launch of their medical fundraising beta software platform that securely provides uninsured individuals an online platform to start raising money from friends, family members, and affiliated charities to pay for their medical procedures. Once their monetary goals are reached, HealthDonor pays the hospital or healthcare facility direct for the medical procedure, ensuring absolute security and fraud prevention.
HealthDonor also has created a series of online tools for charities and other organizations to create and manage profiles for their sponsored individuals and causes. HealthDonor extends the charity's online reach and creates a new channel to raise money for their causes.
"For individuals who lack quality insurance and need medical care, HealthDonor will be their new resource to pay for their medical procedures. We are a revolutionary new alternative to healthcare insurance, augmenting traditional insurance with our Crowdsource fundraising capabilities," says President Jason Taillie.
Individuals can create profiles, upload videos, and other graphics to create their own personal donation websites, and begin their medical fundraising. HealthDonor accomplishes this by utilizing custom social media, blogging, and email tools, as well as affiliated organizations and charitable benefactors visiting the site.
HealthDonor is also partnering with hospitals and other healthcare facilities nationwide, helping the individual receive medical treatment, while simultaneously ensuring the healthcare facility gets paid for their services.