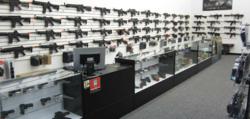 Bringing affordable, high quality airsoft products to the Twin Cities.
Oakdale, MN (PRWEB) August 21, 2012
Airsoft Station has announced that they are expanding their business to the local scene by opening up a new retail store in Oakdale, MN. Up until now, the airsoft retailer has solely focused on online sales. Recognizing that there is a local demand for a full-service airsoft store, they have decided to open a retail store to serve the local airsoft community.
The store has hundreds of different airsoft guns in stock, as well as a large selection of tactical gear, premium grade BBs, and accessories. They have a large selection of entry level airsoft guns as well as many high-end brands. The entry level airsoft guns allow new players to easily get into the game without having to spend a lot of money. A complete entry level loadout can be obtained at Airsoft Station's store for under $200. Catering to the more experienced players, they have a large selection of high-end products by top of the line brands such as G&G Armament, ICS, VFC, and KWA. They also feature many fully licensed products from brands like Colt, H&K, Smith & Wesson, Magnum Research, Taurus, and FN Herstal.
The most popular airsoft rifles are on display on the AEG wall which runs the entire length of the store. These airsoft guns are all skirmish ready and are covered by Airsoft Station's in house warranty and guarantee. The glass display cases are full of gas and CO2 powered airsoft pistols, as well as high quality precision grade BBs, optics, and other accessories.
Keeping the sport of airsoft safe is Airsoft Station's number one priority. They will not sell any airsoft gun to anyone under 18 years of age. Airsoft Station strongly encourages all customers to treat their airsoft guns responsibly and maintain the highest safety standards at all times.
The new Minnesota airsoft store is located at 1330 Helmo Ave N. in Oakdale. Only a few minutes east of St. Paul, just north of I-94 off of I-694.