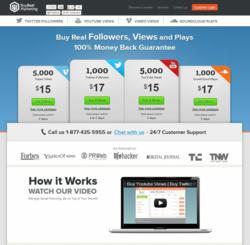 Ottawa, ON (PRWEB) August 21, 2012
Buy Real Marketing proves again its love for aesthetic web designs intended to warmly welcome visitors as seen on its recently launched web redesign. The redesign has more personality and life incorporated on it with the best service packages from various social media product offerings placed front and center. Check it out at http://www.buyrealmarketing.com/.
The new Buy Real Marketing has a sleek look that defines professionalism and a fresh atmosphere that conveys an invitation. It has an improved functionality with easily navigational tabs to take clients to the social media service packages they desire to make a purchase on. Clicking on the Twitter followers tab on the topmost right will take clients to a subpage that houses five Twitter followers service packages. The same goes with the tabs: YouTube views, Vimeo views and SoundCloud plays.
Buy Real Marketing has been taking the lead to provide businesses the chance to buy Twitter followers, YouTube views, Vimeo views and SoundCloud plays to improve their social media presences and boost their social profiles with the credibility a large number of following provides.
"Buy Real Marketing is not all about selling. We also take charge to supply our clients with an appealing website to come home to whenever they need our services. Besides, we know how important a website is to a business' online marketing strategy. If you don't look right to people, they won't waste their time to get to know you at all," explains JP Bisson, Managing Director for Buy Real Marketing.
In order for a company to get the most out of their design and drive visitors, leads and sales, it is important to recreate and construct websites in the context of internet marketing strategy. Buy Real Marketing hit the mark with placing emphasis on significant elements that their clients want to learn more about such as: contact number and availability of chat support in large fonts placed in the middle, the 100% Money Back Guarantee on top, providing security to buyers, and a video embedded in a prominent area, giving visitors an idea what the website is about, in a nutshell.
To know more about the company's services, visit their website at http://www.buyrealmarketing.com or contact them at 1-877-435-5955.
About
Buy Real Marketing is owned by Clicking Labs. Clicking Labs is a well-established internet marketing company founded in 2010 by Jean-Patrick Bisson, Diana Quartin and Jonathan Kennedy. The company specializes in driving search marketing and social media traffic, social web app development and conversion optimization. Each product or service specifically helps small/medium website owners increase online visibility and improve online sales.
###