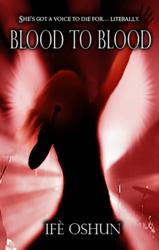 ...a unique [YA] spin with hit-making immortals and an insider's view of the music industry.
Boston, MA (PRWEB) August 23, 2012
Former music journalist Ifè Oshun is releasing "Blood To Blood," the first in a series of YA novels centered around Angelika Brown, aka Angel, a 16 year-old, and newly immortal, rising pop star raised in the upscale Boston neighborhood of Beacon Hill.
"Blood To Blood" blends the YA fiction of "Twilight" with the hopes and dreams of television shows like "The Voice" along with immortals, angels, a rapping werewolf, and a love triangle. Slated for official paperback and e-book release in December 2012, the novel's e-version is currently in pre-release exclusively via Amazon.
Summary: Angelika Brown has a killer voice. Too bad her über-conservative parents aren't happy when she decides to quit high school to be a pop singer. What's worse, she's morphing into a blood-drinking immortal and her soaring vocals can now destroy everything, and everyone, within earshot. Will she learn how to control her new powers? Or will her bloodlust cause her to kill her girl group before they reach the Top 10?
As the daughter of ancient immortals, Angel is faced with jaw-dropping challenges, while forced to make complex moral choices that will forever shape the person she is becoming as she pursues her dream of singing for the world. "Blood To Blood" is ideal for young adult and teen audiences as well as all fans of YA urban fantasy.
Author Ifè Oshun worked for over a decade as a music journalist for magazines and major websites including HiphopRnbSoul.com where she served as Editor-In-Chief. She also independently produced, and wrote for, television and theater and served as a Writers Guild of America intern on the Star Trek television series. She lives in her hometown of Boston. Contact her to schedule interviews and other publicity events at http://www.IfeOshun.com.