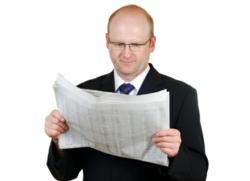 "The Federal Reserve has the tough task of juggling the economy and the spigot that is monetary stimulus," says Cekerevac. "This has become even more difficult since the data have not been a complete disaster."
New York, NY (PRWEB) August 23, 2012
In a recent Investment Contrarians article, editor Sasha Cekerevac notes that with the latest Federal Reserve meeting concluded, many investors are disappointed that additional monetary stimulus was not initiated. However, Cekerevac states that economic data leading up to next month's Federal Reserve meeting will be crucial in determining if additional monetary stimulus will be needed—and that data seems to be saying "yes."
"The Federal Reserve has the tough task of juggling the economy and the spigot that is monetary stimulus," says Cekerevac. "This has become even more difficult since the data have not been a complete disaster."
According to Cekerevac, the Federal Reserve is now hesitant to take on further action after already enacting several bouts of monetary stimulus, because the fear is that this will have a limited impact on the market before deleterious actions occur.
"The next two months of economic data, especially in the unemployment rate and non-farm job creation numbers, are crucial in determining where the Federal Reserve stands for monetary stimulus," states Cekerevac.
In particular, he points out that jobs numbers below 80,000 increase the odds of a new monetary stimulus plan and almost guarantee it.
As it stands, Cekerevac believes monetary stimulus looks likely. However, he warns, investors should be prepared for a non-event in next month's Federal Reserve meeting. All the information will be presented through the economic data releases, and Cekerevac suggests investors then adjust their portfolios accordingly.
To see the full article and to get a real contrarian perspective on investing and the economy, visit Investment Contrarians at http://www.investmentcontrarians.com.
Investment Contrarians is a daily financial e-letter dedicated to helping investors make money by going against the "herd mentality."
The editors of Investment Contrarians believe the stock market and the economy have been propped up since 2009 by artificially low interest rates, never-ending government borrowing and an unprecedented expansion of our money supply. The "official" unemployment numbers do not reflect people who have given up looking for work and are thus skewed. They believe the "official" inflation numbers are also not reflective of today's reality of rising prices.
After a 25- to 30-year down cycle in interest rates, the Investment Contrarians editors expect rapid inflation caused by huge government debt and money printing will eventually start us on a new cycle of rising interest rates.
Investment Contrarians provides unbiased research. They are independent analysts who love to research and comment on the economy and investing. The e-newsletter's parent company, Lombardi Publishing Corporation, has been in business since 1986. Combined, their economists and analysts have over 100 years of investment experience.
Find out where Investment Contrarians editors see the risks and opportunities for investors in 2012 at http://www.investmentcontrarians.com.
George Leong, B. Comm., one of the lead editorial contributors at Investment Contrarians, has just released, "A Problem 23 Times Bigger Than Greece," a breakthrough video where George details the risk of an economy set to implode that is 23 times bigger than Greece's economy! To see the video, visit http://www.investmentcontrarians.com/press.