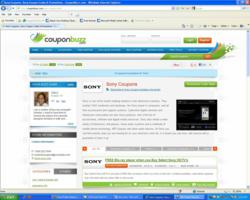 We are simple, streamlined, easy to search and, above all, we have tons of great deals that get renewed every day.
Houston, TX (PRWEB) August 21, 2012
Today CouponBuzz.com featured a new Sony coupon that offers consumers the opportunity to snag one of the coveted Sony VAIO S series laptops for just $999. Since scoring a custom-built VAIO laptop under a thousand bucks is a great deal, the offer is only valid for a limited time and while supplies last. Expected to attract the attention of the online shopping community, the coupon has been selected to be featured at the top of the webpage CouponBuzz.com has devoted to Sony special offers and coupon codes.
"The VAIO S Series laptop is an incredibly powerful laptop from one of the top brands in the computing industry," stated Justin Bowen, CEO of CouponBuzz.com. "We chose to feature this coupon on our Sony home page because we are confident that its value will pull a significant portion of online shoppers to our website. And once people visit CouponBuzz.com the first time, they just keep coming back. We are simple, streamlined, easy to search and, above all, we have tons of great deals that get renewed every day."
The Sony VAIO 15.5 inch S series laptop fits exactly into the range of highest consumer demand for screen size in a portable computer, and the 15.5 inch Full HD display comes in 1920x1080 resolution, and is LED backlit for brilliant, clear images. Of course, those impressive images are possible in part because of the NVIDIA GeForce GT hybrid graphics card, whose 1GB of memory enables the computer to maximize its own processor speed for dedicated operating system functions. This means not only incredible media and gaming experiences, but ultra-fast computer function.
With a 500 GB hard drive as part of its standard build, the Sony VAIO 15.5 inch S series has more than sufficient capacity for all but the most hard-core down-loaders and media creators. 6 GB of DDR3 memory, a 3rd generation Intel Core i5 processor, and an internal lithium polymer battery round out the general specifications. For more info on both the VAIO S series laptop and on how to use the new Sony coupon to get it for just $999, consumers can visit the Sony coupon section at CouponBuzz.com, located here http://couponbuzz.com/sony-coupons.html.