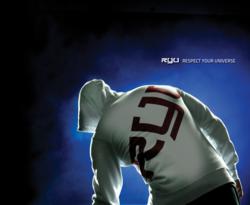 (PRWEB) August 21, 2012
(Financial Press) – Quick on the heels of their TSX Venture Exchange listing, performance apparel and equipment company Respect Your Universe, Inc, has appointed veteran retail executive David Campisi as its new Chairman and CEO.
"My goal is to build a multi-channel business that is profitable in wholesale, retail, and on the web." said Campisi.
Campisi joined the RYU Board of Directors in March this year. Following the resignation of former CEO Christopher Martens this week, Campisi was a natural fit to take the helm of the rapidly growing company.
Campisi brings with him an outstanding background. With executive experience at Kohls and Fred Meyer and most recently as the former Chairman, President and CEO of The Sports Authority, he brings more than 30 years of visionary experience in the retail industry to RYU.
During his time as CEO at The Sports Authority, Campisi was responsible for implementing new strategic imperatives, bringing $100 million in e-Commerce business in-house, negotiating long-term multi-million dollar deals to acquire naming rights for the Bronco's stadium in Denver, and establishing two major foundations for the Sports Authority, including the "Sports Authority Foundation" and "Pass the Good Foundation."
"We are thrilled about David Campisi becoming the new Chairman and CEO of RYU," said Kristian Andresen, who will step aside as Chairman. "With his extensive expertise, experience and knowledge in the retail industry, we are confident David will accelerate the growth of RYU.
David comes to us with so much experience and with a great track record from some very successful companies, he will be the one to take our brand to the next level."
"I will remain on the board, and currently hold the executive title of Secretary. Regardless of titles, I dedicate all my time to RYU. I'm currently working on the international strategy, and e-commerce. I guess if asked what I want my new title to be it would be something fun."
The new CEO and Chairman certainly shares Andresen's enthusiasm for the company.
"RYU is special because it's unique and new," said Campisi. "I'm here on the ground floor and get to really build something with this fantastic team. It's not every day you really believe in something and have the ability to make such an impact."
And what does he think of RYU's new public listing in the Canadian market?
"I really feel being on the TSXV has legitimized RYU in the face of investors," said Campisi. "It's an extremely respected trading arena and we are happy to be a part of it."
"With our the listing and the latest financing complete we can focus on continuing to create great products that give both retailers and consumers something to get excited about." he explained.
Just what will this look like in the short-term?
"We believe that we have a great product and the market is really starting to react. Our immediate goals are to get out to retail in a big way." said Campisi. "In addition to our expanding network of retail partners we are opening our first retail outlet in Las Vegas. Our new flagship store, along with our shop in shop in Leone's L2 will provide data that will inform our roll out of our retail operations."
About Respect Your Universe
Respect Your Universe, Inc. is a premium performance apparel and equipment company rooted in and inspired by Mixed Martial Arts. Focused on the needs of the athlete, RYU brings innovative design, development and production of premium authentic performance gear with style to mixed martial artists and athlete enthusiasts worldwide. The RYU brand is based on respect, strength, honor and sustainability. Respect to the End. http://www.ryu.com
Legal Disclaimer/Disclosure: A fee has been paid for the production and distribution of this Report. This document is not and should not be construed as an offer to sell or the solicitation of an offer to purchase or subscribe for any investment. No information in this article should be construed as individualized investment advice. A licensed financial advisor should be consulted prior to making any investment decision. Financial Press makes no guarantee, representation or warranty and accepts no responsibility or liability as to its accuracy or completeness. Expressions of opinion are those of the author's only and are subject to change without notice. Financial Press assumes no warranty, liability or guarantee for the current relevance, correctness or completeness of any information provided within this article and will not be held liable for the consequence of reliance upon any opinion or statement contained herein or any omission. Furthermore, we assume no liability for any direct or indirect loss or damage or, in particular, for lost profit, which you may incur as a result of the use and existence of the information, provided within this article.