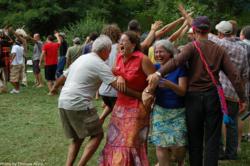 Over 150 people attended from all over the globe -- England, Wales, the United States, Poland, Canada, Australia, and Mexico.
MARGARETVILLE, NY (PRWEB) August 23, 2012
The international Sacred Fire Community organization held its 10th annual "Reunion" at the Blue Deer Center in the Catskill Mountains the weekend of August 10-13th. Over 150 people attended from numerous countries around the world, including England, Wales, the United States, Poland, Australia, Canada and Mexico. A sacred fire was lit and kept for the duration of the three-day event, which featured music by Blue Paradox, workshops by the Haudenosaunee Singers and Dancers, and an inspiring talk by Transition Towns speaker, Tina Clarke.
Blue Paradox has been playing music for Sacred Fire Community for over 8 years. It brings together the talent of local and national professional musicians, several initiated shamanic practitioners who are also musicians, as well as the internationally renowned, Myra Melford and Omar Velasco. Their driving rhythms, punctuated by Hudson Valley-area bassist, Rob Norris, are notorious for driving people up from their seats and onto their dancing feet.
The Haudenosaunee Singers and Dancers are led by Sherri Waterman-Hopper, of the Onondagas, and features the talents of several other tribes considered part of the Haudenosaunee people. Their two workshops on Sunday, August 12 were conducted outside on the lawn at the Blue Deer Center and informed the audience of over 80 people about the styles of dress warn, as well as displays of traditional social dances, some of which invited participation from those in attendance. The land of the Blue Deer Center was once the stomping ground of the Haudenosaunee people, so their return on this day was a momentous occasion.
Tina Clarke, a "Transitions" movement organizer and leader, has been involved closely with 350.org, as well as numerous other organizations addressing sustainability issues. Transition Towns provides a positive model for bringing communities together to arouse focus and inspiration on issues of reducing oil dependence, increasing economic resilience, and developing shared strategies for action. Her enlivening talk on Saturday afternoon at the Blue Deer Center, inspired many to begin doing transition organizing in their home towns.
Through participation at the "2012 Sacred Fire Community Reunion" at the Blue Deer Center, people experienced a temporary community on the land of the Blue Deer Center, nurtured by the gentle Catskill Mountains, and lulled by the whispers of the gentle river known as Saskawhihiwine.
Blue Deer Center provides an important setting for teachings and practices that promote balanced relationship with the natural world. They particularly welcome ancestral approaches to healing, ritual, and retreat. The Center's origins are rooted in the Huichol shamanic tradition and living connection to the universal and sacred spirit of fire.