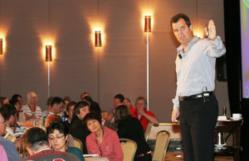 There are other ways for first time homebuyers to buy their own house, and I'm going to show you how
(PRWEB) August 21, 2012
Affordable housing continues to be a problem for many big cities because being the centre of economic, technological and social activities makes the prices of every commodity shoot up. Houses aren't exempt. Now even studio apartments are out of reach for first-time home buyers as more banks refuse to finance small units under the 50-square metre benchmark.
"It is disheartening to see people strive every day to save up for deposit, then only to be turned down by the lenders in the end. Buying a house has become difficult because of the strict lending requirements that banks impose. That is why more and more people are looking into alternative ways to buy properties," property investing coach Rick Otton said.
For more than 30 years, Rick Otton has taught thousands of students how to invest in real estate using non-traditional strategies. He conducts property investing boot camp trainings that reveal alternative property options for home buyers and investors who can't get a bank loan.
"Most banks require a 20% deposit making it difficult to save up, said Mr. Otton. "It is also more difficult to have the loan approved if the house or unit is smaller, like studio apartments which are usually 20 square metres. These requirements push home ownership out of home buyers' reach," Mr. Otton said.
"There are so many other ways to buy a house, and my students can prove that. They are the testament to how effective my strategies are. I've been in sharing bank-free property strategies for many years now, and these strategies have improved their lives tremendously," he said.
Mr. Otton's strategies have spread to different countries like Australia, New Zealand and the UK, and are featured in his real estate book titled 'How to Buy a House for a Dollar'.
"We're going through some challenging times right now, and it would not help if we're stuck in a system that doesn't work. If we become stagnant, how are we going to achieve our goals? There are other ways for first time homebuyers to buy their own house, and I'm going to show you how," said Mr. Otton.
Mr. Otton has also scheduled a series of live property investing seminar trainings as complement to his property book. "It's going to be held in four different venues and packed with tips and techniques on real estate investing. These one-day live events are free and open for everybody," Mr. Otton added.
Information and registration can be found here: HowToBuyAHouseForADollar.com/Register
About Rick Otton
Rick Otton has spent decades making money by snapping up inexpensive real estate and putting it to work building wealth. Now, he's teaching other Aussies how to do the same.
Otton is the founder and CEO of We Buy Houses, which operates in the U.S., U.K., Australia and New Zealand putting his strategies to work every day.
Otton got his start in alternative real estate investment in 1991 and within a year acquired 76 properties. In years after, Otton made a fortune using his low-risk, high-reward strategies to inexpensively acquire real estate.
Now, Otton wants to share the wealth by sharing the wisdom, teaching Aussies how to buy and sell real estate without cutting banks and other middlemen in on the deal.
Otton has been featured in a variety of television programs and magazines, including Today Tonight, A Current Affair, Australian Property Investor and more.
You can learn more about Otton and how to invest in residential real estate without using banks at http://www.rickotton.com.