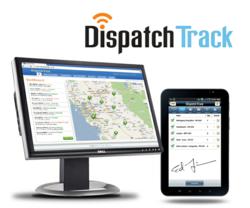 We are seeing immediate benefits with DispatchTrack. Cost per stop is down, driver morale is up. -- Lee Goodman, CEO, Jeromes
Saratoga, CA (PRWEB) August 22, 2012
Research firm Software Advice recently completed a comprehensive review of mobile applications for field service and picked DispatchTack as one of the best. http://www.dispatchtrack.com
Their expert team culled through hundreds of applications to identify their favorite Android and Apple iOS options based on ratings, reviews, social shares, downloads and functionality.
http://blog.softwareadvice.com/articles/crm/our-favorite-mobile-apps-for-field-service-1071812/
The DispatchTrack application – available for Android smartphones and tablets - was recognized for ease of use and real-time connection to a companion dispatcher Web console. Instead of manually plotting routes, Software Advice analyst liked that dispatchers could use an automated Routing Console that suggests the shortest distance route for all stops with just the click of a button. Additionally, the a GPS-enabled drag and drop map to deliver optimal driving directions based on the technician's location. http://www.dispatchtrack.com/product.html
The DispatchTrack application also comes with the ability to capture job completion pictures, notes, customer signature and survey directly on the mobile device. The positive survey comments captured in DispatchTrack can be promoted on the user's website, Facebook or another Internet channel. Check out the entire report here.
DispatchTrack is an end-to-end solution for delivery and service organizations. The system combines mobile resource and customer service management into one comprehensive tool. Users can schedule, manage and monitor field jobs all the way from the point of sale to delivery and customer satisfaction survey.http://www.dispatchtrack.com/roi.html
Software Advice is a research firm that connects software buyers with products best suited for their unique needs. It's fast. It's free. And it's easy. http://www.softwareadvice.com/crm/field-service-systems-comparison/#buyers-guide