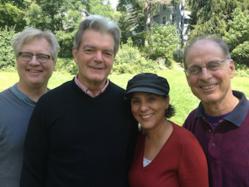 The Board expanded its size to benefit from valuable experience and backgrounds of additional members.
Margaretville, NY (PRWEB) August 22, 2012
Following an annual meeting gathering on the grounds of the Blue Deer Center (BDC) the week of August 13th, the Blue Deer Center Board of Directors is pleased to announce the addition of Amanda Kerner to the Board. The Board recently modified its organizational by-laws to increase its size from three to a maximum of five Directors. Current members feel that this expanded size will allow the Blue Deer Center, a home for indigenous traditions, to benefit from valuable experience and backgrounds of additional members.
Amanda Kerner has a Bachelor of Science in Business Administration, emphasis "The Entrepreneurial Program" from University of Southern California USC (1982). She spent sixteen years successfully managing and co-owning a family business in the transportation industry. She served for two years as a member of the steering committee for SYMCLA, a not for profit organization and has been actively involved in her local community in Santa Monica, CA for many years.
Amanda has a beautiful family -- A very supporting partner Alan Kerner, who is a Marakame (shaman in the Huichol tradition) and Firekeeper with the international Sacred Fire Community and two daughters, two sons, and four grandchildren.
An ardent supporter of the Blue Deer Center from its beginnings, Amanda has acted as one part of a three-part Executive Director function for ten years now. Her primary area of responsibility has been that of stewarding the BDC relationship with the donor community. Amanda, along with her fellow Co-Executive Directors, has served with honor, loyalty and great diligence over the years.
Blue Deer Center provides an important setting for teachings and practices that promote balanced relationship with the natural world. They particularly welcome ancestral approaches to healing, ritual, and retreat. The Center's origins are rooted in the Huichol shamanic tradition and living connection to the universal and sacred spirit of fire.