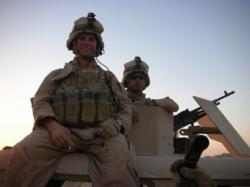 We hope that people want to donate because they truly believe in our mission to help veterans, and not because they want their name in the paper.
Chicago, IL (PRWEB) August 30, 2012
VFEN is the first organization that teaches our nation's heroes about the importance of personal financial management and even how to become savvy investors. Since public education does not place a heavy emphasis on finance, many of our nation's youth are mismanaging their money. "Regardless of what your job is, everyone is (or at least wants to be) in the business of making money, but once you make it, what then? Too many times have I seen veterans squander their combat pay because they don't possess the knowledge to properly manage their own money." says Clayton Cohn, President of VFEN and OIF veteran.
VFEN now has chapters in Chicago, Los Angeles, San Diego, Seattle, and New York and is aiming to start a series of courses, lectures and seminars to start familiarizing vets with the importance of financial literacy. "The problem with most non-profits is that they usually don't operate in the best interest of the individuals the organization is supposed to be helping," Cohn continues. "Billions of dollars pour into NPOs every year by 'philanthropists' who really just want recognition from their peers as they donate money to organizations for tax write-offs and a gala thrown in their honor. At VFEN, all donations are tax-exempt, but we hope that people want to donate because they truly believe in our mission to help veterans, and not because they want their name in the paper." VFEN is currently seeking $100,000 to purchase educational and training materials, technology, and classroom space in hotels and convention centers across the country so that the organization can hold seminars for the over 25 million veterans, service members and their families currently living in the U.S. Donations can be made online at FinanceVeterans.org, or through their Fundly campaign at http://fundly.com/financeveterans. VFEN's tax returns, 501(c)(3) status and DBA forms are attached for all to see, in the interest of complete transparency.
About VFEN:
VFEN was founded by a group of Marine veterans who have found success in the financial world (after honorably concluding their tours of duty) by starting their own financial services firm, Marketaction, Inc. VFEN prides themselves on offering free financial services and education to all veterans, service members and their families, and also feel that maintaining a 100% efficiency rating is paramount given that the organization was created to teach financial literacy. They want people to know that every penny of every dollar donated goes directly towards teaching our nation's heroes, which is why all ancillary expenses to the organization are paid for by outside businesses and individuals so that the coveted 100% efficiency rating can be maintained.