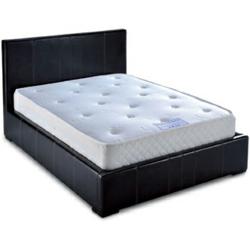 FurnitureInFashion Launches New Bedding Ranges to its Collection, duvets, pillows, mattresses.
Bolton, UK (PRWEB UK) 29 August 2012
As FurnitureInFashion offers complete home solutions, it has extended its soft furnishings as well by increasing it collection of pillows, duvets and mattresses. The new bedding ranges offer extremely comfortable and modern collection of pillows, duvets and mattresses. The designs, colors and features in new bedding ranges are meant for any bedroom with any color theme. The contemporary and modern bedding ranges provide comfortable solutions to homeowners. The owner and Managing Director of FurnitureInFashion Asad Shamim said, "We have extended our bedding ranges with new soft furnishings. FurnitureInFashion is expanding its production and catalogue to target potential markets all around the world. By providing bedding ranges to its collection, FurnitureInFashion is providing a one stop shop for its bedroom furniture range."
FurnitureInFashion is determined to provide maximum comfort and for this reason has added new mattresses range in its soft furnishing. The company is offering extremely comfortable Kidsaw Cot Sprung mattresses for bed. This mattress utilizes body temperature to mould to the contours of the individuals. The fabric used in this range is cool and luxurious to touch and provides perfect relaxation. This mattress is also available in foam as well with a finest quality material. Another latest and classic collection of Mercury 4 mattresses has been launched which is made of light quilted damask fabric and upholstered. A Mercury 4 mattress is a unique piece with outstanding design and finish which goes perfect with modern and traditional décor. Another fantastic mattress is Lunar Rool-up 3 mattress which provides consistent comfort by adjusting the surface temperature. It has open cell structure and allows air to circulate freely through the mattress. It also provides superior pressure point relief. Mr. Shamim said, "Our mattresses range is pretty extensive and has been designed to provide comfortable sleep by providing temperature adjustment, pressure point relief and ultimate comfort." The new mattress range also offers color single divan and blue mattresses that have an open coil spring mattress with a stitch bond cover. It is available in pink or navy fabrics and ideal for young children.
FurnitureInFashion offers incredible range of duvets in different fabrics like satin and silk. The silk duvets are ideal as they are breathable and enable the body to maintain a more stable temperature. This combined with innovative duvet manufacturing techniques result in a product which provides more pleasant sleep as the temperature of the human body remains constant throughout the night. The feather and goose down duvet comprises of 50% soft down and 50% white goose feather filling. The high down content provides high loft, traps warm air more efficiently and extra softness. This provides a sumptuous cozy feel as the duvet draped softly over the body. Another ideal duvet is in silk with 100% Siberian goose down filling. All these duvets require easy care and are fully washable. The sides of duvets are double stitched to prevent any loss of fillings. Manufactured with care, the duvets are sealed in presentable bag with anti-dust mite feature.
FurnitureInFashion is offering many types of pillows among which memory foam stain covered pillow is the most modern product. The memory foam was initially developed by NASA who used it for improving the safety of aircraft cushions. This pillow is developed by using high density memory foam that reacts to body heat allowing it to mould to a warm human body within only a few minutes. These and many other pillows can be found in the new bedding range of FurnitureInFashion.
About FurnitureInFashion
FurnitureInFashion is a UK based online retail business. It supplies furniture items from its German based warehouse and has a showroom in Bolton, UK. The company provides everything from umbrella stand wall art and room dividers to bedroom, bar stools and computer tables. FurnitureInFashion offers excellent free delivery within UK and has a fantastic customer service as well. For further information and details about the sale, visit http://www.furnitureinfashion.net