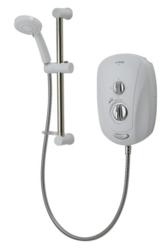 Electric showers from manufacturers such as Gainsborough Showers are perfect for a wide range of showering scenarios
(PRWEB UK) 21 August 2012
Increasingly, showers are being used throughout the day, rather than just a sixty second spritz in the morning, or a relaxing wind down before bed. So it's becoming more and more important to prioritise ease of use, convenience and energy efficiency as well as an affordable price tag when buying a new shower.
If those criteria sound familiar, then an electric shower could be the ideal solution. They've undergone something of a revolution recently, and today's electric showers from manufacturers such as Gainsborough Showers, are perfect for a wide range of showering scenarios.
With that in mind, Gainsborough Showers have issued a set of Top Tips for anyone looking to buy an electric shower

Firstly, think about who will be using the shower – is it for yourself, the kids, guests or a shower for everyone?
Unlike a conventional mixer shower, electric showers place no demand upon stored hot water and simply heat water as it is required. They are therefore perfect if there are lots of people clamouring for a shower at once, or if an additional shower would prove too much of a strain on the existing plumbing system. And of course, because an electric shower won't rely upon a reserve of hot water, it's also an energy-efficient, cost-effective eco-option.
Keep it flexible! Look for a height adjustable, multi-mode handset that can be easily changed, according to preference – essential for a family-friendly shower.
If the new shower will be the household's main shower, make sure the model selected offers as much flexibility as possible. Regardless of whether it's to swish the sand and seawater away, or to simply cool down after a few hours of gardening, a shower with an adjustable height handset and a variety of spray patterns to choose from, will keep the whole family happy. All of Gainsborough's GSX electric showers come complete with multi-mode handsets, and until 23rd September, the range starts from just £79.99.
Safety should be the number one priority when choosing a new shower – especially if children or more vulnerable adults will be using it. Not so long ago, electric showers lacked some of the more sophisticated, safety-orientated features of mixer and digital showers. Today, however, electric showers such as Gainsborough's GSX Plus and GSX Deluxe both include a range of safety features making them superb choices for safer showering. Phased shut down, for example, means that residual hot water is flushed from the shower's heating element after it has been switched off making it safe for the next user. The intelligent automatic heat setting will ensure that no one showers at excessively high temperatures, whilst both showers also feature a low pressure indicator, visual reassuring LED 'power on' lights, and handsets that emit an audible click to indicate that the spray pattern has been changed.
The type of installation can make a difference to your needs. Are you buying a completely new shower or replacing an existing shower?
If it is the latter, opt for an electric shower that has been specially designed to be as easy as possible to retrofit. Installing an electric shower is usually very straightforward, although a brand new electric shower will need to be fitted by a Part P registered electrician. Always seek advice before buying a new electric shower. Electric showers from reputable, well-established brands such as Gainsborough Showers have been designed to ensure the minimum upheaval for any type of installation, whether a brand new installation or a replacement or upgrade. In fact, a replacement electric shower could be up and running in a matter of hours.
Go for simple, push button controls and look out for showers where buttons illuminate – they are a great visual aid
There's nothing more annoying that a tricky to use and control shower – especially with slippery hands. Thankfully, electric showers are usually exceptionally easy to use. The latest models, such as Gainsborough's GSX Plus, currently available at an introductory offer of £99.99, feature easy to use, illuminated push button controls.
Similarly, take a look at top of the range showers with LCD displays – Gainsborough's GSX Deluxe is a great example.
If there are a few more pennies in the pot, all the latest, technology-driven features such as an LCD display that shows water temperature and the shower's setting, could easily be yours. Take a look at Gainsborough's GSX Deluxe – available until 23rd September at the special, introductory price of £119.99.
Right now, there has never been a wider choice of places to buy a new shower from. But for the best prices, head to the web first. Online manufacturers such as Gainsborough Showers http://www.gainsboroughshowers.co.uk have fantastic deals, special offers and often feature tempting introductory prices on new showers, too. With showers also including free next working day delivery and the peace of mind that comes with solid guarantees and aftersales support, web deals such as Gainsborough's are hard to beat.
With showers like these, the thought of all that exercise, fun in the sun, mud grime and sand never seemed so appealing!